You have to admit that you've possibly already tried to masturbate with the help of numerous objects that get on your way when you get horny (and some guys can cross the red line: 1). You might be not addicted to jerking off with the help of masturbation tools and you're in search of something that can substitute you this pleasure only from time to time. Additionally, you're pressed on budget or you have specific reasons that prevent you from purchasing a self-satisfactory toy online or in a usual sex-shop. We'll help you out with our piece of advice and we'll help you find out the difference between the professional jerk-off sleeve and its DIY versions.
Masturbators' Main Features
They are stimulating devices imitating a pleasure hole that you can fill and pump until you get to the desired peak.
There's nothing wrong in humping numerous objects that have certain sexual appeal to you.
You need to understand that it is not always safe for men's health and for the well-being of the mucous membranes of your private parts.
A masturbator or a regular Fleshlight imitates he real feel with the help of:
Vaginal, anal or oral mimicking;
Tightness and thoroughly textured inner structure (there are certain sleeve options copying the inner intimate parts of the well-known porn stars including vaginal and anal openings of women as well as anal openings of men);
Pressure (it should be enough for the girth of your penis and your sexual stamina – the tightest models are actually used as training units for men who can't last long in bed).
All of the issues mentioned above meant that you'll have to be persistent and creative to be able to reproduce something that would remind you of a real vagina, anus, or mouth. Your local workshops in combination with your regular household items can be very useful in this sphere.
Here are several ways for you to reproduce a homemade artificial vagina or whatever you want it to be.
Sponges & Latex Glove
It's one of the most popular homemade hacks. Probably.
Just think of a household tool that can be firm and supple enough to be able to satisfy you.
Now imagine regular sponges you use while washing the dishes daily. You'll probably have to use latex gloves or your favorite rubbers for a smooth feel. Here's what you need to do:
Get a couple of unused sponges;
Make them face each other with the hard surfaces;
Grab and stretch the glove between them and fix the construction with rubber bands;
Add lubricant and make it work for your pleasure.
Keep in mind that this a disposable tool that can't be used for several times a week. If you're not planning to get back to the process soon, you'd better throw the inner structure of your homemade Fleshlight away. It's all about hygiene. You won't get severe male health issues, but you'll certainly suffer from regular rashes and inflammations in case if you keep using a toy like this daily without maintenance.
ATTENTION! Be especially careful if you're trying to put off some steam I the absence of your partner.
There's nothing wrong in jerking off on your own.
Nevertheless, the rashes caused by improper hygiene may case inflammation in your partners' intimate parts or anal opening. Be horny, but stay caring.
TIP: Invest in a bullet vibrator and raise you masturbation level higher than you might thought it would be! You can place this pleasing vibrating bead into a condom, adjust it to your cock with plaster, or put it into your homemade pocket pussy to get high in no time!
Sponge Sandwich in a Bottle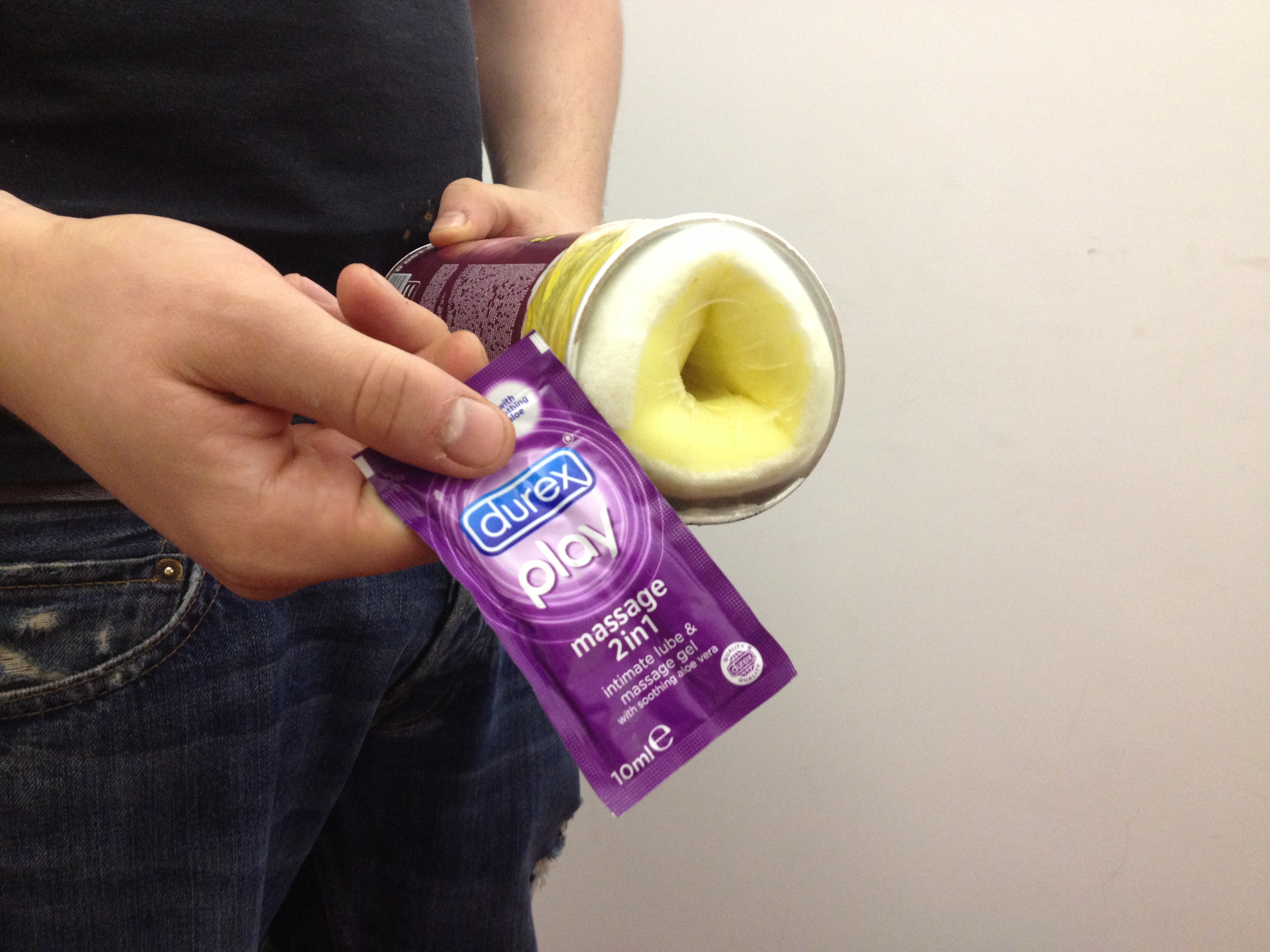 Basically this method works with the same latex glove, but the result will be closer to a real pocket pussy.
Fix the sponge sandwich with a glove (or a condom) in a plastic or carton bottle and make sure everything's in place;
Pull out the opening of the glove you're using and wrap it around the top a can or a bottle you use as a casing;
Fix all edges on place with the help of zip ties, rubber bands or regular tape;
Lube it up and start the fun!
TIP: This construction method can imitate a real pocket pussy with suction in case if you make a hole on the back of the bottle to give you more enjoyment possibilities.
Fruit & Vegetable Sex Toys
Oh, that's one of the basic back-to-school basic jerk-off life hacks.
Are you in search of vegetable for a salad? Or, maybe, you're planning to make pasta? It doesn't matter.
Pick out one of the largest and longest vegetables aside and don't forget about it when you're back home.
Grab one of the longest and largest vegetables;
Take a knife or a spoon to clean it out;
Use duct tape to fix the construction on the outside in case if it starts to get into pieces by the end of your solo action;
Fill it with a condom and use enough lube to make it feel comfortable.
Bubble Wrap Fleshlight DIY pocket pussy
That's the right time to get back to some of your school supplies in case if you didn't manage to deal with the first homemade option. Bubble wrap can be relaxing in many ways. The following Fleshlight hack is performed with the help of the following tools: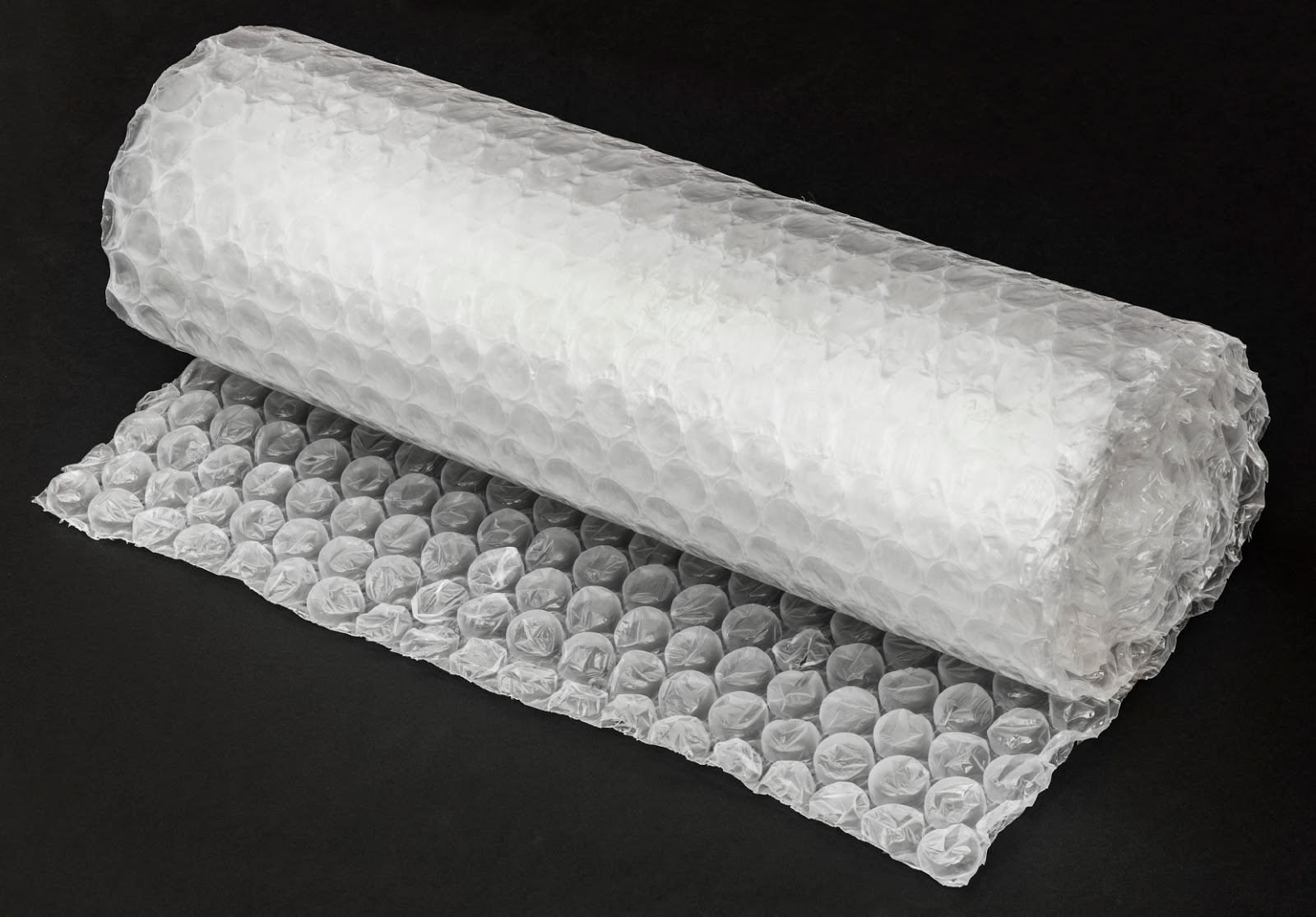 Condoms or rubber gloves (optional).
Almost all components can be purchased in your local stationary. It won't take much time, because the process itself is similar to a putting the pieces of a puzzle together:
Roll the tube out of bubble wrap basing on the desired measurements of your tube;
Use pipe cleaners to imitate the chambers and fix the bubble wrap.
The bubbles will provide you with pleasing sensations and you'll probably manage to enjoy it. Don't forget about some lubricant or a condom you can fit in the tube for a smooth feel.
Wet Towel & Latex Glove
One of the best choices for men in a hurry.
There's nothing specific you'll have to get before you proceed with the masturbation: just a warm wet towel, a condom (or a latex glove), and some lube.
Wrap it;
Stuff it;
Enjoy!
A warm towel can literally provide you with a close-to-reality sensation. Fix the elastic rim of a glove or of a condom on the outside of your Fleshlight imitation to create something like a vaginal opening. This type of DIY sex toys is one of the most convenient, because you won't have to spend time to clean up the created mess afterwards. Just get the used towel into your washing machine and throw the used inner rubber component in the trash bin. No one will ever know you've been naughty this day.
A Candle & Silicone
That's the most complicated method that demands about two months of waiting. If you have enough time for creativity and if you're fond of crafting toys on your own, search your household for a thick candle, a thin knife and a silicone based sealant in a bottle (get it in any of your local building stores). Here's what you have to do:
Measure your penis and carve out a shaft out of the candle with a smaller length and girth;
Continue smoothing the sides of the candle until you're satisfied with the shape;
Cover the candle with a sealant a centimeter and a half thick;
Let it dry for no less than three weeks;
Now you have a personally crafted silicone sleeve!
If you are not good at carving techniques, you can use a cucumber of the suitable size as a base instead of the candle.
A jerk-off sleeve like this will feel very close to real sex toys. You'll have to take care of it as if it was the original brand toy:
Preheat it with warm water before use;
Purchase in a water based lube;
Wash it with soapy water when you're done;
Purchase a bottle of talc or baby powder to maintain the strength of your self-made substitution.
TIP: Be creative in the shape of a candlestick. Carve out the bumps, ribs or holes.
Form the base that will result in a sleeve with chambers of different sizes.
Use a cigarette lighter to make the surface smooth and pleasant to the touch. If everything is done properly, you get a cool reusable pocket pussy.
Beat the Meat!
It might sound confusing but meat as well as poultry can be very satisfying because they make very realistic imitations of a vaginal inner surface. Definitely, this was of sex satisfaction is for the brave ones. Consider the following options:
Chicken
The best way to get a desirable result it to pick out fresh chicken breasts and pass on to the following steps:
Delete the skin;
Warm it up for half a minute in a microwave oven to get it oily;
Wrap it up around your penis and enjoy if you're not confused with the smell.
Quite a lot of men have experienced satisfying sensations with this masturbation method
Beef Liver
The surface and texture of liver is very similar to a vagina. Here are the steps we advise you to follow:
Get a piece of a partially frozen liver – it shouldn't be too soft, but enough to be bent;
Grab a small thin knife to cut out an inner tube in your liver Fleshlight – it should be no more than a dime in diameter;
Leave the liver to melt on its own to be or thaw it with the help of warm water if you're impatient;
Wrap it around your penis and don't forget to get a high-grade rubber if you don't want to create too much mess.
Cornish hen
There are no specific instructions to the use of a Cornish hen except for cleaning it from the inside, placing it on the table and beating it off!
Make sure you're alone in the house, because it's probably one of the weirdest ways to jack off on the part of someone who has a family with kids or just a girlfriend.
Nevertheless, some men find it pretty satisfying.
Branded vs. DIY
Evidently, there's no better Fleshlight than the one you get in a sex-shop either online or at one of the local stores if you have them in your area. Online option is better for those who still feel hesitant about discussing a product like this eye-to-eye with a seller that you might probably be acquainted with in everyday life.
You'll never get a perfect jerk-off tool constructing it with the products you get from the groceries and stationaries. Even the most inexpensive masturbation sleeve is better than a homemade version because it is manufactured with the use of certain materials and professional techniques.
True-to life and physiologically shaped. Every sex toy is created with the shape and size of your organs.
Hygienic. There's no difficulty in cleaning up a regular Fleshlight or any other masturbation sleeve, because all of these sex toys are made of the detachable parts that can be kept and washed out separately.
Practical and can be taken anywhere you might want to. You can keep it in your bag, take it with you while you travel, keep it wherever it's comfortable for you because most Fleshlights don't look like something evil and disgusting. These are modern self-satisfaction tools designed to be discreet and attractive at a time.
Should be maintained properly. A usual silicon sleeve should be regularly washed out with warm soapy water and covered in talc or any other special powder that will help you to keep the silicone surface of it undamaged and smooth. Additionally, it should be used solely with a water-based lubricant, because the silicone-based one can ruin the structure of the materials.

Cheap. It can be made of numerous materials and your fantasy and creativity are the only limits that you can meet. Thankfully, there's a ton of videos and instructions in the net that you can use as a basis for your own ideas.
No maintenance. Mostly due to the fact that things like these can't be maintained at all. Are you really going to wash out the bubble wrap you've used for a masturbation session? Hell no!
Should be constructed each time when horny in comparison to a ready-made jack-off instrument that is always at your service. Of course, a warm-towel-with-a-latex-glove hack can become an exception and probably one of the best options among the DIYs from scratch.
Bottom Line
There's nothing wrong in constructing numerous sex toys on your own out of sponges, rubber, silicone or duct tape. Nevertheless, nothing compares to the skillfully fabricated ones. Their advantages include:
Safety;
Convenience;
Physiological component;
Easy maintenance.
The only significant advantage of a handmade version is that it's inexpensive. It still demands creativity and patience.
Also, you can get some advice here: 2
References:
1. 'Putting lead in your pencil': self-insertion of an unusual urethral foreign body for sexual gratification
2. Non-pharmacological and non-surgical strategies to promote sexual recovery for men with erectile dysfunction
What are the 5 best methods for making a DIY pocket pussy?
DIY pocket pussies are a great way to have some fun and spice up your sex life without having to buy an expensive toy.
But, if you're not sure where to start, here are five of the best methods for making your own DIY pocket pussy.
1. The Towel Method: This is one of the simplest ways to make a makeshift pocket pussy using items you likely already have around the house. All you need is a towel, scissors, and something like Vaseline or lube. Start by cutting the towel into a long strip that's about 10 inches wide and then roll it up into a tube shape that's about 3-4 inches in diameter. Secure the rolled-up towel with some tape at each end and then apply some lube or Vaseline on the inside of it for added comfort. You can also use this method with scarves or small blankets for added variety!
2. The Pringles Can Method: You'll need an empty Pringles can (or other similarly sized container) for this one as well as some cotton balls, foam rubber, duct tape, and lubricant. First cut two circles out of foam rubber that fit snugly inside the can and line them up against either side so there's no space between them when they're in place. Then stuff cotton balls in between both layers until it's nice and full before taping securely around all four sides with duct tape to keep everything in place. Finally add some lube on the outside of the can before using it – voila!
3. The Balloon Method: This method might be more suitable for those who want something disposable but still effective – all you need is a balloon (preferably large), scissors, lubricant and possibly some water if desired. Cut off both ends of the balloon so it looks like a tube before adding some lube inside and stretching out one end slightly more than usual so it will be easier to insert yourself into later on! If desired, you can also fill up part of the balloon with water for an even better sensation during use but make sure not to overfill it as this could cause discomfort or even breakage due to excess pressure build-up during use…
4. The Sponge Method: Another fairly simple but effective diy pocket pussy option is by using sponges! All you need are two regular kitchen sponges (not cleaning ones!), scissors, lubricant and maybe some clear packing tape if desired too. Start by cutting both sponges lengthwise down their center lines before rubbing lube along each side before pressing them together again so they stick due to friction from squeezing them together firmly enough – just make sure not to overdo it as this could damage your sponges! If desired, wrap clear packing tape around all four sides after inserting your penis into one end of your now completed Sponge Pocket Pussy – easy peasy!
5. The Fruit/Vegetable Method: This isn't necessarily something we'd recommend doing every time since fruits & vegetables don't always last very long but hey – if you're feeling adventurous why not give it a try? All you need is a suitable fruit or vegetable such as cucumber, banana or avocado; scissors; lubricant; plus maybe plastic wrap or cling film depending on what kind of fruit/veg you decide on using (as certain kinds may require wrapping beforehand). Start by cutting off two equal sized sections from your chosen item before rubbing lube onto one section before pressing them together firmly enough so they stick due to friction – once again being careful not to press too hard as this could damage your edible creation! Once finished simply insert yourself into one end while using plastic wrap/cling film if needed… And enjoy!
1. Bottle Enclosure – how to make homemade pocket pussy
Making your own pocket pussy from an old bottle can be a fun and interesting project.
Many people are unaware that they can make their own version of this popular sex toy.
It's a great way to save money and add some spice to your bedroom activities.
To start, you'll need an empty plastic bottle, preferably one with a wide mouth opening. Ideally, the bottle should have a lid or cap so it can be covered when not in use. Next, you'll need to gather some supplies: scissors, a small piece of cloth (such as an old sock), lubricant (silicone-based works best) and optional condoms for added protection.
First, carefully cut off the bottom of the bottle leaving about one inch of plastic for the "lips" of your pocket pussy. Next, cut out two holes in the top edge – these will allow air to enter and exit during use.
Now insert your cloth into the opening at the bottom of the bottle. The cloth should fit snugly; if it is too loose, you can add extra fabric or create more layers around it until it fits snugly inside the bottle. Do not make it too tight though – you don't want to restrict airflow!
Next up is lube! Squirt plenty of silicone-based lubricant onto both sides of the cloth before inserting it into your homemade pocket pussy. This will reduce friction and make insertion easier and more pleasurable for both partners involved in playtime! If desired, add condoms over each side as an extra layer of protection against bacteria or other risks associated with sexual activity.
Once everything is ready to go – enjoy! Be sure to clean up afterwards using warm water and soap or specialized sex toy cleaners designed specifically for this purpose.
With proper care and maintenance, your homemade pocket pussy will last you years!
2. Towel Pussy – how to make homemade pocket pussy
Towel pussies are a great way to get your hands on some pleasure without breaking the bank. In this blog post, we'll discuss how to make your very own homemade pocket pussy with nothing but a few common household items.
First things first, you'll need a towel. Any clean towel will do just fine. You can use a standard bath towel or even a hand-towel for smaller hands! Next, fold the towel in half so that it forms an oval shape and then roll it up until it resembles a tube of sorts – this is what we'll be using as our "vagina".
Now comes the fun part – stuffing your homemade pocket pussy! There are several materials you can use here; cotton balls work well, as does dryer lint or fabric scraps from old clothing. Just make sure whatever you choose is soft and pliable enough to fit inside your rolled-up towel tube! If needed, you can also add some lubricant for extra comfort.
Once everything is stuffed into your homemade pocket pussy, all that's left to do is seal up one end with tape or glue and enjoy. It may take some trial and error before getting the right shape and size for maximum pleasure, but when you find the perfect combination of material and shape – voila! You have yourself an awesome homemade pocket pussy that's ready to please whenever the mood calls for it.
So there you have it: DIY instructions on how to make your very own Towel Pussy using items around your house.
Whether you're looking for something cheap yet effective or just prefer more control over what goes into making your sex toys, this tutorial should have given you plenty of ideas on how to get started with crafting your own unique pleasure device at home!
3. Pussy Made Out of Kitchen Sponges – how to make homemade pocket pussy
For any adventurous DIY-ers out there, look no further! We've got a great tutorial for how to make your own homemade pocket pussy using materials found in the kitchen. With some simple supplies and a bit of creativity, you can create your very own custom made pleasure toy.
The first step is to assemble the materials you need. You'll need two kitchen sponges (the kind you'd use to do dishes), scissors, duct tape, and either lubricant or vegetable oil. Make sure that all of these items are clean before use.
Next, cut one of the sponges in half so it looks like an arrowhead shape. Then cut the second sponge into four strips that are about three inches long and one inch wide, or whatever size fits comfortably in your hand.
Once you have all of your pieces cut out, it's time to start building! Take one strip from the second sponge and wrap it around the arrowhead shaped piece like a spiral with duct tape until it's completely covered. This will become your homemade pocket pussy's inner sleeve which will give sensations when used with lubricant or oil.
Now take the remaining strips from the second sponge and cover them with more duct tape until they're completely sealed off on both sides.
These will form the outer casing for your homemade pocket pussy; they should fit snugly over top of each other without fully covering up the inner sleeve which is necessary for pleasurable sensations during use.
Finally, apply some lubricant or oil onto your homemade pocket pussy before using it for maximum pleasure! You can also add extra stimulation by adding little bumps or textures onto it with pieces of foam or rubber if desired.
Making your own pocket pussy is easier than you might think – just follow these instructions and you'll be good to go! Enjoy exploring new ways to please yourself with this fun and creative project!
7. Banana Pussy – how to make homemade pocket pussy
Making a homemade pocket pussy out of a banana may sound like an odd idea, but it's actually quite simple and can be done with minimal effort. If you're looking for an inexpensive and creative way to pleasure yourself, then this is definitely worth giving a try!
The first step is to peel the banana. Once peeled, you'll need to cut off one end of the banana so that it forms somewhat of a cylinder shape. From there, you can make some small incisions in the cylinder so that it has the texture of a vagina. This will give you something to grip onto while using your new toy.
Once your banana is ready, you can insert some lubrication in order to make things smoother.
After that, all that's left is to get down and dirty!
You can use your homemade pocket pussy however you'd like – from gentle strokes to vigorous thrusting – the choice is yours!
Homemade pocket pussies are a great alternative for those who don't want to purchase expensive sex toys or those who just want something different from time-to-time. And if bananas aren't your thing, you can always experiment with other fruits and vegetables such as cucumbers or avocados. However you choose to do it though, just remember: safety first!
8. Pool Noodle – how to make homemade pocket pussy
The humble pool noodle is an unsung hero in the world of DIY sex toys. With just a few simple materials, you can make your own pocket pussy in no time at all!
To start, you'll need to purchase a pool noodle from your local store or online. Once you have it, cut it in half lengthwise and then carefully scoop out the middle part until you've created a hollow center. Next, cut two small holes on either side of the noodle, making sure they're large enough to fit snugly around your penis. Finally, wrap some masking tape around the edges to create a seal that won't come apart when you use it.
Now for the fun part – getting creative with your pocket pussy! You can use different types of materials like sponges or cloths to line the inside of your homemade toy and add texture for extra stimulation.
If you want to get really adventurous, try adding items like beads or ribbons for added sensation.
Once everything is securely in place, lubricate up and enjoy!
This pocket pussy is an affordable and easy way for anyone to explore their sexual fantasies without breaking the bank or having any embarrassing trips to the sex shop. Plus, because you made it yourself it's totally unique! So why not give it a try? Who knows what kind of pleasure awaits?
9. Cotton Gloves – how to make homemade pocket pussy
Cotton gloves may not be the first thing that comes to mind when you think of sex toys, but they can actually make for an excellent homemade pocket pussy. Not only are cotton gloves affordable and readily available, but they also allow for a great degree of customization. With some basic supplies and a bit of creativity, you can craft yourself a unique pocket pussy that will provide hours of pleasure.
To get started on this project, all you'll need is a pair of cotton gloves (preferably white to better simulate the look and feel of real skin), scissors, rubber bands, and some lube or moisturizer. First off, cut off the ends of each glove finger so that they resemble lips. Then use the rubber bands to secure them together at both ends – this will give your pocket pussy its shape.
Now it's time to put in some stimulating details. Take one glove finger and roll it up into a tight cylinder – this will serve as your "clitoris" or stimulation point when using your homemade toy.
You can also add additional ribbing or bumps by rolling up parts of other glove fingers into tight cylinders – these will create interesting internal textures for added pleasure during use.
Once your design is complete, add some lubricant or moisturizer before using your homemade pocket pussy for maximum comfort and sensation enhancement during playtime! Simply slip on the gloves like normal and enjoy! With just a few supplies from around the house and some creative ingenuity, you now have an exciting new pocket pussy that's tailored specifically to fit your own desires!
10. Plastic Bottles – how to make homemade pocket pussy
Making a homemade pocket pussy is not as complicated as it may sound! All you need is an empty plastic bottle, some water, and any type of lubricant. First, cut off the top of the bottle so that you have a cylinder shape. Make sure to leave enough room for your hand to fit inside. Then fill the bottle with warm water, about halfway up its length. After this, add some lubricant – whatever kind you prefer – to make it more comfortable and slippery. Finally, place your hand inside the bottle and start stroking away!
The great thing about making a homemade pocket pussy is that it's completely safe and customizable. You can adjust the amount of water or lube depending on how tight or loose you want it to be.
Plus, using a plastic bottle means that cleaning up afterwards is really easy too – just rinse out the bottle with soap and warm water before discarding it!
It's also very discreet – no one will ever know what you've been doing in there!
So why not give making a homemade pocket pussy a try? With just a few simple steps, you'll be able to enjoy all the pleasure of sex toys without any of the hassle or expense. Enjoy!
How do you make a DIY Pocket Pussy?
Making your own pocket pussy can be a rewarding and creative experience. With the right materials, some patience and a bit of ingenuity, you can make your very own pocket pussy for yourself or as a gift for someone special.
The most important thing when making your DIY pocket pussy is finding the right materials. You'll need to choose something soft and durable like silicone or neoprene, depending on what kind of texture you're looking for. If you'd like something more lifelike then silicone is probably the way to go – it's also waterproof which makes it easier to clean afterwards. Whatever material you choose, make sure that it's non-toxic and free from any potential allergens so that the user won't have an adverse reaction.
Once you have your materials sorted out, it's time to get creative with design! Consider things like size, shape and texture – think about what would feel best when used and create something that suits your preferences perfectly. You can keep it simple with just one single pocket or go wild with intricate grooves and ridges – whatever feels best for you!
When creating the actual pocket part of your DIY pocket pussy, make sure that it's big enough to fit comfortably in its intended user's hand but small enough to give them good control over their movements.
Make sure that there are no sharp edges or rough surfaces as these could cause discomfort during use.
It's also important to make sure that all seams are sealed tightly so nothing leaks out during use!
Finally, don't forget about safety when using DIY sex toys like this – always use lubricant (water-based lube works best) to ensure smooth insertion and prevent any irritation of sensitive areas. Be aware of allergies too – if either party has an allergy then find out what they are before starting any activity involving the toy!
Creating a DIY Pocket Pussy can seem daunting at first but with some research into materials, patience during design and attention to safety details during usage, anyone can craft their very own unique toy!
What materials do you need to make a DIY Pocket Pussy?
Making a DIY Pocket Pussy may seem like an intimidating project, but with the right materials and a little bit of know-how, you can create your very own pocket pleasure toy in no time! From simple items found around the house to specialized supplies available at craft stores, this tutorial will walk you through the steps and provide all the information necessary to make your own homemade pocket pussy.
To start off, gather all of your supplies. A basic DIY Pocket Pussy requires just a few items: latex gloves, scissors, a length of soft tubing or rubber (must be at least 1/2 inch in diameter), lubricant (silicone or water-based is best), and optional adhesive for attaching any additional accessories.
Once you've gathered all of your supplies, it's time to begin creating! Start by cutting two gloves into long tubes. Then cut one end off each glove so that the tube opens up slightly on one side. This will become the opening for inserting your penis into the pocket pussy.
Once these steps are complete, take your rubber or soft tubing and use it to line the inside of each glove tube.
This will provide extra cushioning during use as well as added texture for stimulation.
Be sure that there are no tears in either glove before continuing on with assembly.
Now it's time to attach both glove tubes together. Place them side by side so that their open ends are facing opposite directions and then secure them together using either adhesive or tape (your preference). Once they are connected securely, apply some lubricant inside both sides before closing up the pocket pussy completely with another piece of tape or adhesive.
The final step is optional – if desired, you can add additional features such as vibrators or other textured elements to increase pleasure during use; simply attach these items directly onto either side of your homemade pocket pussy using adhesive. Now all that's left is to enjoy! Slip it over your penis and let yourself be taken away by its unique sensations – just remember to clean it thoroughly after each use with soap and warm water for maximum hygiene!
What are the best methods for making a Fleshlight for her?
Making a Fleshlight for your partner can be an incredibly intimate and enjoyable experience. It's a great way to show how much you care about her pleasure, and it also allows you to customize the design to meet her needs. With a little bit of creativity, you can create an amazing toy that will bring hours of enjoyment.
The first step in creating a custom Fleshlight is choosing the material.
There are several options available, ranging from basic materials like rubber and silicone to more advanced options such as realistic skin-like materials and textures.
You'll want to choose something that feels comfortable for your partner, as well as something that is easy to clean and maintain.
Once you've decided on the material, it's time to start building the toy itself. If you're feeling ambitious, there are plenty of DIY tutorials online that provide detailed instructions on how to make your own Fleshlight using common household items. Alternatively, there are pre-made kits available on the market which come with everything you need – just add water!
Next up is deciding what type of interior texture your Fleshlight should have. This is where things get really exciting! There are literally hundreds of different types of textures available, each designed with different levels of intensity in mind. Whether your partner prefers light stimulation or intense sensations, there's sure to be something perfect for them.
Finally, if you're feeling extra creative, why not take things one step further by adding in some custom features? For example; why not add some vibrating elements into your Fleshlight? This way she can enjoy both visual and tactile stimulation from her new toy! Additionally, many people have had success with adding scented oils or food flavors into their homemade fleshlights – although we would advise against consuming any food products used in this process!
Making a personalized Fleshlight for your partner can be an incredibly rewarding experience – both emotionally and physically!
By following these simple steps – selecting the right material; building the toy; picking out the perfect texture; and finally adding any extra features – you can create a unique plaything that will give her pleasure no matter what situation she finds herself in!
How can you adjust the tightness and sensation of the DIY Pocket Pussy?
In the world of sex toys, there is no doubt that the DIY Pocket Pussy has become a popular option for those seeking to add a bit of spice to their bedroom. This device offers a unique sensation compared to other toys and can be adjusted to suit individual needs. So, how exactly can you adjust the tightness and sensation of your DIY Pocket Pussy?
The first step is to select the right materials for your Pocket Pussy. Different materials offer different sensations; some may be softer or firmer than others, so experiment until you find one that works best for you. Once you have found your preferred material, it's time to start building! With careful craftsmanship, you can customize the shape and size of your pocket pussy in order to create an experience tailored just for you. Additionally, by adding extra layers of fabric or foam padding around the walls of your device, you can further adjust the tightness and sensation as desired.
Once everything is assembled correctly, it's time to test out your homemade creation! If at any point during use you feel like adjusting the tightness or sensation even further, all it takes is a few simple tweaks: varying pressure with each thrust will increase intensity while slowing down and applying light pressure will result in a more gentle experience. Furthermore, by using lubricants such as water-based lubes or silicone-based lubes (which are generally better suited for this kind of toy) users can reach new heights in pleasure!
Ultimately, with proper care and attention given when customizing your own DIY Pocket Pussy, you're guaranteed an enjoyable experience unlike any other sex toy on the market today.
So get creative – build something unique and enjoy every second of it!
What is the best lubricant to use with a DIY Pocket Pussy?
When it comes to DIY pocket pussies, lubrication is key! Without proper lubrication, you can end up with uncomfortable friction or worse: a dry and damaged sex toy. That's why it's important to use the right type of lube for your DIY pocket pussy.
The best types of lubricant for DIY pocket pussies are water-based lubes. Water-based lubes are non-staining, easy to clean and won't damage any materials your DIY pussy may be made out of (like latex or silicone). Additionally, they're safe to use with condoms which makes them an excellent choice for safer sex practices.
If you're looking for something a little more luxurious, you could also consider using a flavored or warming lubricant.
These types of lubricants offer extra stimulation and pleasure during playtime—which can be especially nice when engaging in solo activities with your homemade pocket pussy.
No matter which type of lube you choose, make sure that it is specifically formulated as body-safe and compatible with the material(s) used in your DIY pocket pussy.
Doing so will ensure that you get the most out of your playtime without any unpleasant side effects afterwards!