You have to admit that you've possibly already tried to masturbate with the help of numerous objects that get on your way when you get horny (and some guys can cross the red line: 1). You might be not addicted to jerking off with the help of masturbation tools and you're in search of something that can substitute you this pleasure only from time to time. Additionally, you're pressed on budget or you have specific reasons that prevent you from purchasing a self-satisfactory toy online or in a usual sex-shop. We'll help you out with our piece of advice and we'll help you find out the difference between the professional jerk-off sleeve and its DIY versions.
Masturbators' Main Features
They are stimulating devices imitating a pleasure hole that you can fill and pump until you get to the desired peak. There's nothing wrong in humping numerous objects that have certain sexual appeal to you. You need to understand that it is not always safe for men's health and for the well-being of the mucous membranes of your private parts.
A masturbator or a regular Fleshlight imitates he real feel with the help of:
Vaginal, anal or oral mimicking;
Tightness and thoroughly textured inner structure (there are certain sleeve options copying the inner intimate parts of the well-known porn stars including vaginal and anal openings of women as well as anal openings of men);
Pressure (it should be enough for the girth of your penis and your sexual stamina – the tightest models are actually used as training units for men who can't last long in bed).
All of the issues mentioned above meant that you'll have to be persistent and creative to be able to reproduce something that would remind you of a real vagina, anus, or mouth. Your local workshops in combination with your regular household items can be very useful in this sphere.
Here are several ways for you to reproduce a homemade artificial vagina or whatever you want it to be.
Sponges & Latex Glove
It's one of the most popular homemade hacks. Probably. Just think of a household tool that can be firm and supple enough to be able to satisfy you. Now imagine regular sponges you use while washing the dishes daily. You'll probably have to use latex gloves or your favorite rubbers for a smooth feel. Here's what you need to do:
Get a couple of unused sponges;
Make them face each other with the hard surfaces;
Grab and stretch the glove between them and fix the construction with rubber bands;
Add lubricant and make it work for your pleasure.
Keep in mind that this a disposable tool that can't be used for several times a week. If you're not planning to get back to the process soon, you'd better throw the inner structure of your homemade Fleshlight away. It's all about hygiene. You won't get severe male health issues, but you'll certainly suffer from regular rashes and inflammations in case if you keep using a toy like this daily without maintenance.
ATTENTION! Be especially careful if you're trying to put off some steam I the absence of your partner. There's nothing wrong in jerking off on your own. Nevertheless, the rashes caused by improper hygiene may case inflammation in your partners' intimate parts or anal opening. Be horny, but stay caring.
TIP: Invest in a bullet vibrator and raise you masturbation level higher than you might thought it would be! You can place this pleasing vibrating bead into a condom, adjust it to your cock with plaster, or put it into your homemade pocket pussy to get high in no time!
Sponge Sandwich in a Bottle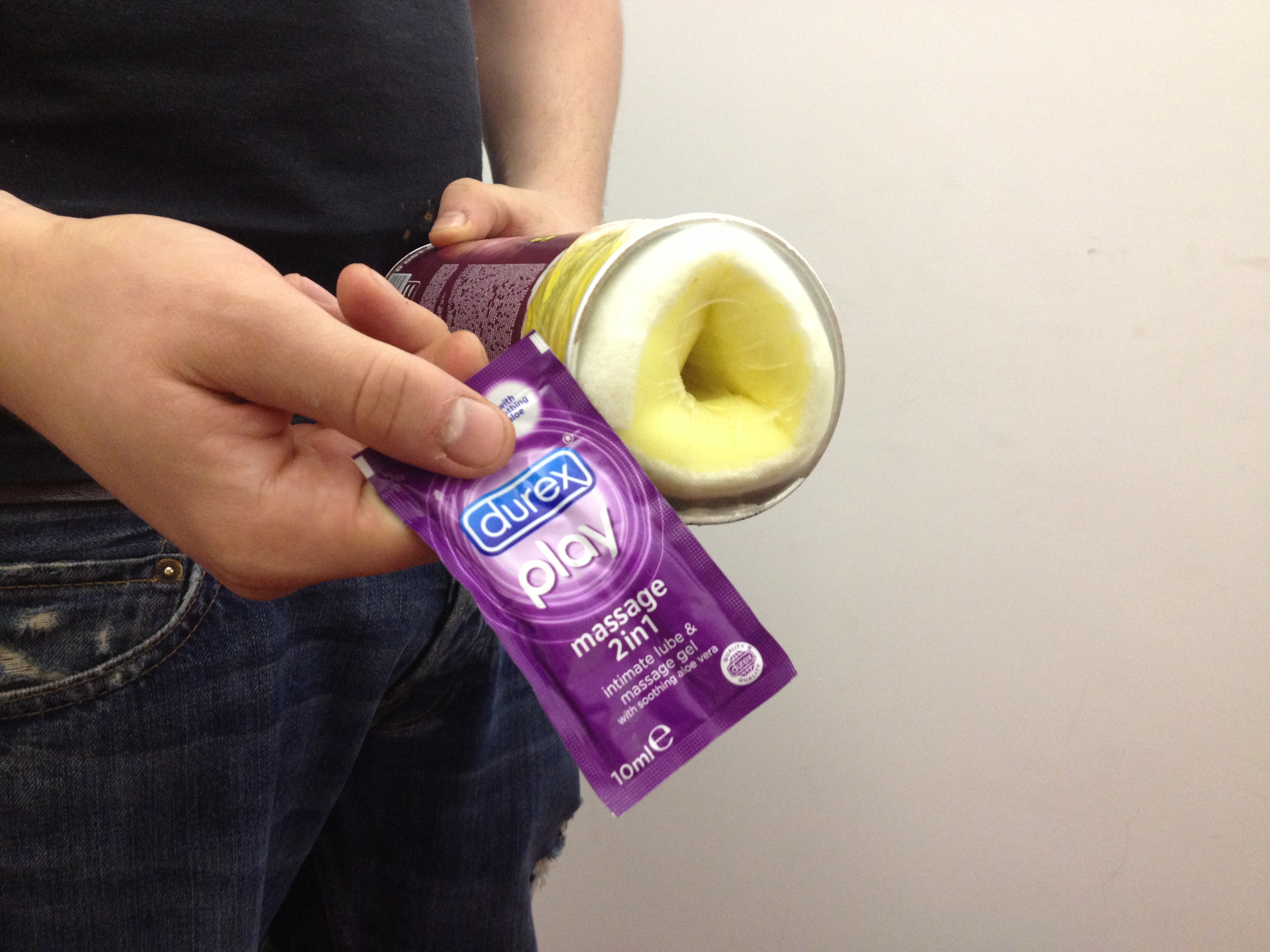 Basically this method works with the same latex glove, but the result will be closer to a real pocket pussy.
Fix the sponge sandwich with a glove (or a condom) in a plastic or carton bottle and make sure everything's in place;
Pull out the opening of the glove you're using and wrap it around the top a can or a bottle you use as a casing;
Fix all edges on place with the help of zip ties, rubber bands or regular tape;
Lube it up and start the fun!
TIP: This construction method can imitate a real pocket pussy with suction in case if you make a hole on the back of the bottle to give you more enjoyment possibilities.
Fruit & Vegetable Sex Toys
Oh, that's one of the basic back-to-school basic jerk-off life hacks. Are you in search of vegetable for a salad? Or, maybe, you're planning to make pasta? It doesn't matter. Pick out one of the largest and longest vegetables aside and don't forget about it when you're back home.
Grab one of the longest and largest vegetables;
Take a knife or a spoon to clean it out;
Use duct tape to fix the construction on the outside in case if it starts to get into pieces by the end of your solo action;
Fill it with a condom and use enough lube to make it feel comfortable.
Bubble Wrap Fleshlight DIY pocket pussy
That's the right time to get back to some of your school supplies in case if you didn't manage to deal with the first homemade option. Bubble wrap can be relaxing in many ways. The following Fleshlight hack is performed with the help of the following tools: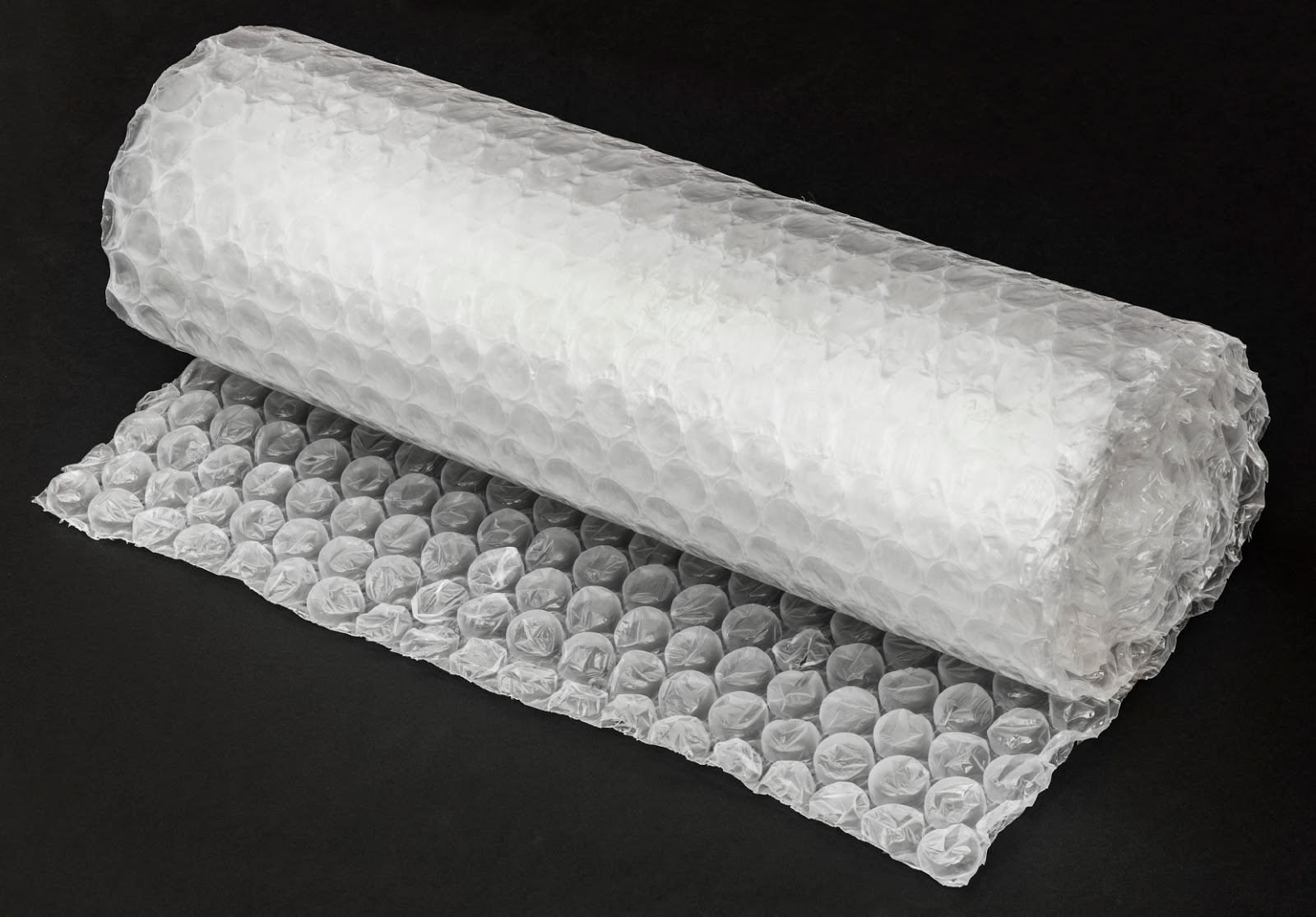 Condoms or rubber gloves (optional).
Almost all components can be purchased in your local stationary. It won't take much time, because the process itself is similar to a putting the pieces of a puzzle together:
Roll the tube out of bubble wrap basing on the desired measurements of your tube;
Use pipe cleaners to imitate the chambers and fix the bubble wrap.
The bubbles will provide you with pleasing sensations and you'll probably manage to enjoy it. Don't forget about some lubricant or a condom you can fit in the tube for a smooth feel.
Wet Towel & Latex Glove
One of the best choices for men in a hurry. There's nothing specific you'll have to get before you proceed with the masturbation: just a warm wet towel, a condom (or a latex glove), and some lube.
Wrap it;
Stuff it;
Enjoy!
A warm towel can literally provide you with a close-to-reality sensation. Fix the elastic rim of a glove or of a condom on the outside of your Fleshlight imitation to create something like a vaginal opening. This type of DIY sex toys is one of the most convenient, because you won't have to spend time to clean up the created mess afterwards. Just get the used towel into your washing machine and throw the used inner rubber component in the trash bin. No one will ever know you've been naughty this day.
A Candle & Silicone
That's the most complicated method that demands about two months of waiting. If you have enough time for creativity and if you're fond of crafting toys on your own, search your household for a thick candle, a thin knife and a silicone based sealant in a bottle (get it in any of your local building stores). Here's what you have to do:
Measure your penis and carve out a shaft out of the candle with a smaller length and girth;
Continue smoothing the sides of the candle until you're satisfied with the shape;
Cover the candle with a sealant a centimeter and a half thick;
Let it dry for no less than three weeks;
Now you have a personally crafted silicone sleeve!
If you are not good at carving techniques, you can use a cucumber of the suitable size as a base instead of the candle.
A jerk-off sleeve like this will feel very close to real sex toys. You'll have to take care of it as if it was the original brand toy:
Preheat it with warm water before use;
Purchase in a water based lube;
Wash it with soapy water when you're done;
Purchase a bottle of talc or baby powder to maintain the strength of your self-made substitution.
TIP: Be creative in the shape of a candlestick. Carve out the bumps, ribs or holes. Form the base that will result in a sleeve with chambers of different sizes. Use a cigarette lighter to make the surface smooth and pleasant to the touch. If everything is done properly, you get a cool reusable pocket pussy.
Beat the Meat!
It might sound confusing but meat as well as poultry can be very satisfying because they make very realistic imitations of a vaginal inner surface. Definitely, this was of sex satisfaction is for the brave ones. Consider the following options:
Chicken
The best way to get a desirable result it to pick out fresh chicken breasts and pass on to the following steps:
Delete the skin;
Warm it up for half a minute in a microwave oven to get it oily;
Wrap it up around your penis and enjoy if you're not confused with the smell.
Quite a lot of men have experienced satisfying sensations with this masturbation method
Beef Liver
The surface and texture of liver is very similar to a vagina. Here are the steps we advise you to follow:
Get a piece of a partially frozen liver – it shouldn't be too soft, but enough to be bent;
Grab a small thin knife to cut out an inner tube in your liver Fleshlight – it should be no more than a dime in diameter;
Leave the liver to melt on its own to be or thaw it with the help of warm water if you're impatient;
Wrap it around your penis and don't forget to get a high-grade rubber if you don't want to create too much mess.
Cornish hen
There are no specific instructions to the use of a Cornish hen except for cleaning it from the inside, placing it on the table and beating it off! Make sure you're alone in the house, because it's probably one of the weirdest ways to jack off on the part of someone who has a family with kids or just a girlfriend. Nevertheless, some men find it pretty satisfying.
Branded vs. DIY
Evidently, there's no better Fleshlight than the one you get in a sex-shop either online or at one of the local stores if you have them in your area. Online option is better for those who still feel hesitant about discussing a product like this eye-to-eye with a seller that you might probably be acquainted with in everyday life.
You'll never get a perfect jerk-off tool constructing it with the products you get from the groceries and stationaries. Even the most inexpensive masturbation sleeve is better than a homemade version because it is manufactured with the use of certain materials and professional techniques.
Fleshlight Pocket Pussy

DIY Masturbator

· True-to life and physiologically shaped. Every sex toy is created with the shape and size of your organs.

· Hygienic. There's no difficulty in cleaning up a regular Fleshlight or any other masturbation sleeve, because all of these sex toys are made of the detachable parts that can be kept and washed out separately.

· Practical and can be taken anywhere you might want to. You can keep it in your bag, take it with you while you travel, keep it wherever it's comfortable for you because most Fleshlights don't look like something evil and disgusting. These are modern self-satisfaction tools designed to be discreet and attractive at a time.

· Should be maintained properly. A usual silicon sleeve should be regularly washed out with warm soapy water and covered in talc or any other special powder that will help you to keep the silicone surface of it undamaged and smooth. Additionally, it should be used solely with a water-based lubricant, because the silicone-based one can ruin the structure of the materials.

· Cheap. It can be made of numerous materials and your fantasy and creativity are the only limits that you can meet. Thankfully, there's a ton of videos and instructions in the net that you can use as a basis for your own ideas.

· No maintenance. Mostly due to the fact that things like these can't be maintained at all. Are you really going to wash out the bubble wrap you've used for a masturbation session? Hell no!

· Should be constructed each time when horny in comparison to a ready-made jack-off instrument that is always at your service. Of course, a warm-towel-with-a-latex-glove hack can become an exception and probably one of the best options among the DIYs from scratch.
Bottom Line
There's nothing wrong in constructing numerous sex toys on your own out of sponges, rubber, silicone or duct tape. Nevertheless, nothing compares to the skillfully fabricated ones. Their advantages include:
Safety;
Convenience;
Physiological component;
Easy maintenance.
The only significant advantage of a handmade version is that it's inexpensive. It still demands creativity and patience.
Also, you can get some advice here: 2
[purple_bg]
References:
[/purple_bg]
1. 'Putting lead in your pencil': self-insertion of an unusual urethral foreign body for sexual gratification
2. Non-pharmacological and non-surgical strategies to promote sexual recovery for men with erectile dysfunction