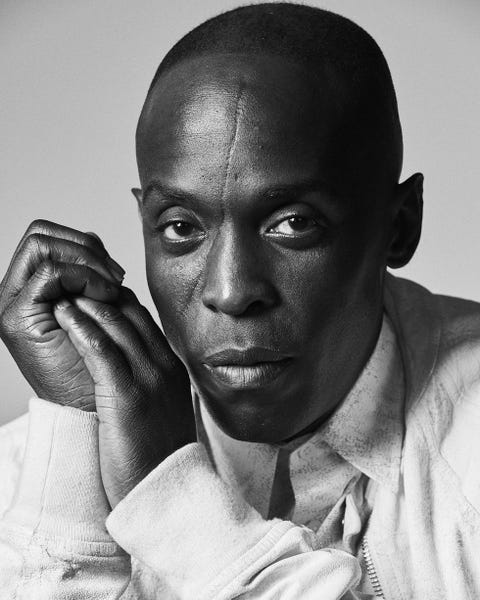 "Why?" Williams asks over a Zoom call in September. "Why is it that for everyone from my community, everything we're told to do, is to get out? Get an education to get a good job and get out. Become entertainers. Become a rapper, make a lot of money, and get your mama out. Dribble that ball so you can get the whole family out. Well, where the fuck are we going? Where are we going? Where am I going?"
How Williams "got out" was Hollywood. In the late 80s, still living in Flatbush, Williams found work as a backup dancer. In 1996, Tupac Shakur stumbled across a Polaroid of Williams and became instrumental in getting him cast in his first movie, Bullet, where Williams played a henchman alongside Mickey Rourke.
Then came HBO and Ed Burns, a writer on a series called The Wire. In 2001, Burns cast Williams on the show as a shotgun-wielding Robin Hood, Omar Little. It was Williams's breakout role. His part, despite being written for just one season, lasted all five.
He'd go on to play a gangster in HBO's Boardwalk Empire from 2010 to 2014. Two years later, he played an inmate in the miniseries The Night Of, a story about a young man arrested for a murder and later sent to Rikers. For much of 2020, he's been starring in another show for HBO: Lovecraft Country, a horror series that takes place in the racist depths of America in the 1950s. Williams plays the brash Montrose Freeman, father to the show's protagonist, Atticus (Jonathan Majors).
The roles have taken a toll on him, Williams says. During The Wire, Williams, who had gotten sober in his 20s, turned to cocaine. He got clean after The Wire, but he would relapse and abuse substances off and on throughout the next decade.
But HBO's Lovecraft Country struck a note no other filming experience has thus far, he says. Its explicit focus on racial trauma—on Black Americans enduring continued racial violence in the '50s, some of whom were attacked during the 1921 Tulsa Massacre—dramatically changed things for Williams.