The positive feedback of the customers proves that Fleshlight products are the most popular on the market of sex toys for men.
Their talented designers do their job to promote the most realistic self-satisfaction tools with male anatomy in mind.
Advantages of Fleshlight Sleeves
They have easy maintenance and can simply be washed out with warm soapy water and gently covered with talc;
They are variable in matters of size, design, and color;
They are mostly compatible with automatic self-abuse tools produced by Fleshlight;
They last a lifetime in case if you don't forget about the basic maintenance.
Most Realistic Masturbation Sleeve Models Produced by Fleshlight
Today we're talking about the most realistic models of jerk-off tools. Not all men opt for unpredictable and intensive sensations.
Some Fleshlight models are designed to improve your stamina, thus providing you with stronger and more intensive stimulation.
You're slowly getting used to a heavier stimulation and it helps you stay aroused with your partner longer than usual.
Fleshlight products can be perfect as additional tools for PE and ED treatment. Nevertheless, most men are looking for something more natural. A tool like this can be a perfect complement to your regular sex life and, as a matter of fact, it's approved by a lot of sensible women.
1. Fleshlight Stoya
Very intensive stimulation;
Impressive penetration depth;
Tight with a flawless suction effect;
Can be used as a stamina training unit with a wide range of motion and a number.

Stoya Destroya is designed for BIG men. Unfortunately, the last chamber of the sleeve is not accessible for many average men. At the same time, this can be good news for the owners of really massive dicks.
Cleanup and drying are very time-consuming.
Not very realistic in matters of stimulation, though the surface of it is very pleasant to the touch.
Overall Description
This Fleshlight model is not one of the most realistic on the market judging by the inner structural elements.
Nevertheless, the smooth and soft material feels like real skin and it's gentle to the touch.
This masturbation tool is available with two types of inserts: Lotus and Destroya. The second one is in high demand, so most of this description will be devoted to the Destroya Fleshlight Sleeve.
Measurements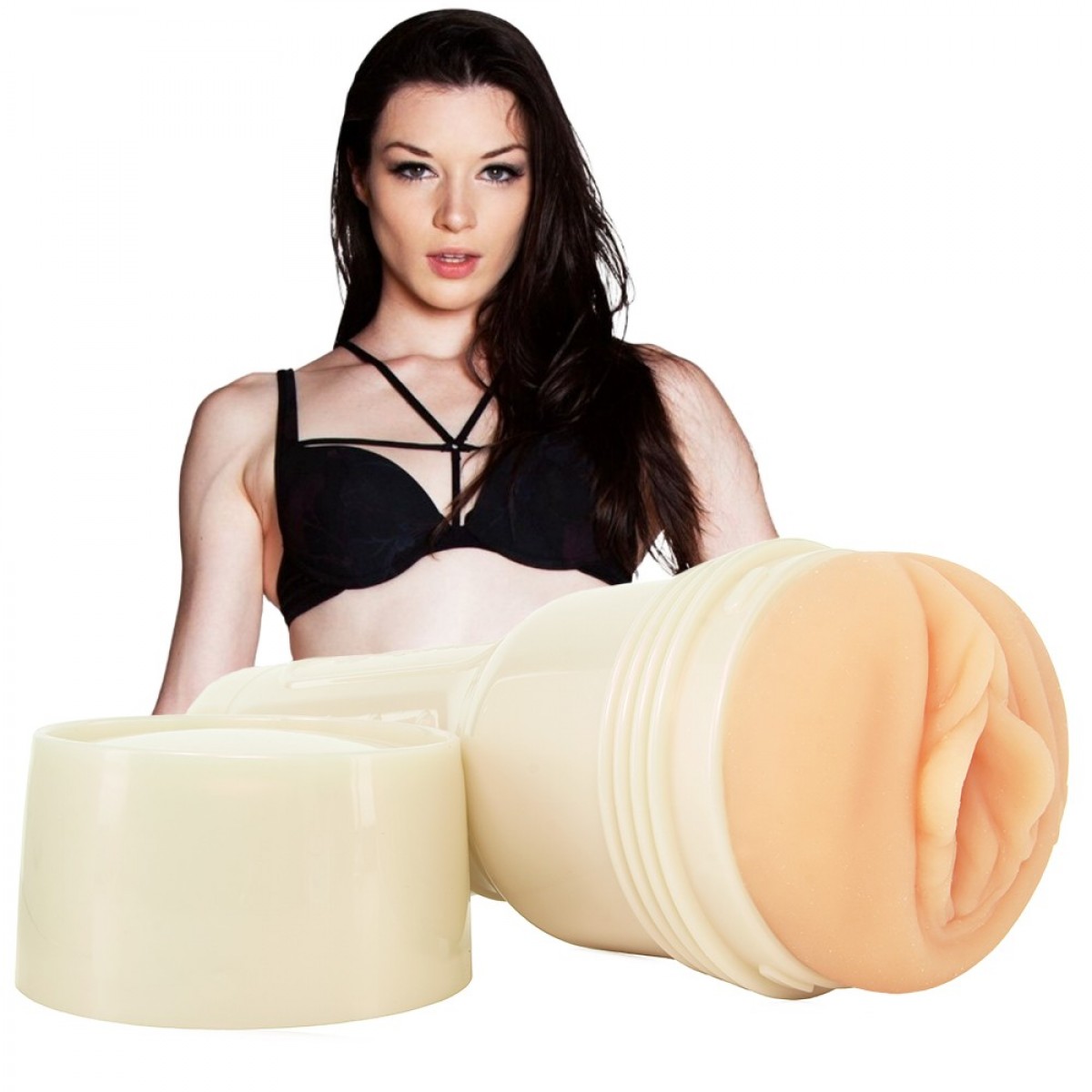 Weighs about 1.43 pounds (0.65 kg). The overall size of the Fleshlight is 10 inches (ca. 25 cm). The inner canal of the sleeve is 9 inches (ca. 23 cm) long.
The manufacturer states that it provides a balls-deep masturbation experience. The diameter of the canal is one inch.
Structure
The inner canal of the Stoya Destroya Fleshlight is made up of several chambers. The opening of it is molded from one of the most popular porn stars with the same nickname, and it is also signed by the actress.
Now let's get back to the structure of the chambers. As soon as you get in, you enter a short and tight opening with tiny bumps leading you to the first round chamber.
Its walls are covered with bumps shaped like stems. Each of the stems is pointed facing each other.
You can stop in this chamber for a bit of edging if you are not in the mood of intensive stimulation of your shaft.
After leaving the spherical chamber you get to a short, but tight entrance followed by a long tubular chamber covered with the dame stem-like bumps, but this time they are fixed at an angle to meet your penis with their pointed ends.
On the way to the last chamber, you get into a ring of bumps that will lead you to a narrowing corridor with a lightly ribbed surface.
This type of stimulation with quite firm spike bumps cannot be actually called natural.
What really makes this Fleshlight model look realistic is the shape of the entrance. Nevertheless, most men agree that stimulation like this is a perfect way to train sexual stamina and improve sensuality.
Maintenance
Well, needless to say, but maintenance of this thing takes quite a lot of time. You'll have to clean it out thoroughly after every use if you do want it to last long.
You can wash it out with plain, warm, soapy water and cover the surface with talc or baby powder to prevent deterioration.
Thankfully, the manufacturer made it possible to easily turn their masturbation sleeves inside out.
Keep in mind that the best way to make it dry after washing is to let it do this on its own. The drying time is up to 5 hours.
Fleshlight Stoya: Bottom Line
This model has the highest popularity in the Girls Series.
It's designed for impressive stimulation and does not offer a lot of realism except for the overall design of the entrance.
Use it as a stamina training unit, add up some lube and edge with it, add it to your regular sex play with a partner. The only significant disadvantage of Stoya is tricky maintenance.
2. Fleshlight Nicole Aniston
Most men agree that it gives a very realistic feel;
Results in a very intense ejaculation;
The structure is very firm and it will last a lifetime with proper maintenance;
Another perfect tool for sexual stamina training;
The chambers of the sleeve have very distinct textures;
The contrasting shapes of the chambers are designed for numerous types of stimulation.

Not all Fleshlights demand thorough maintenance, but this one does. You'll have to spend the time to make it clean.
It dries on its own. Unfortunately, it may take up to 5 hours depending on the climate you live in.
May be too stimulating for those who opt for realism.
Overall Description
Nicole Aniston is one of the latest models among Fleshlights of the Girls series. As well as
Stoya and other Fleshlights of the series, it is molded right from the pussy of the actress and signed by her either.
Nicole is a fitness trainer and her body is tight and well-trained.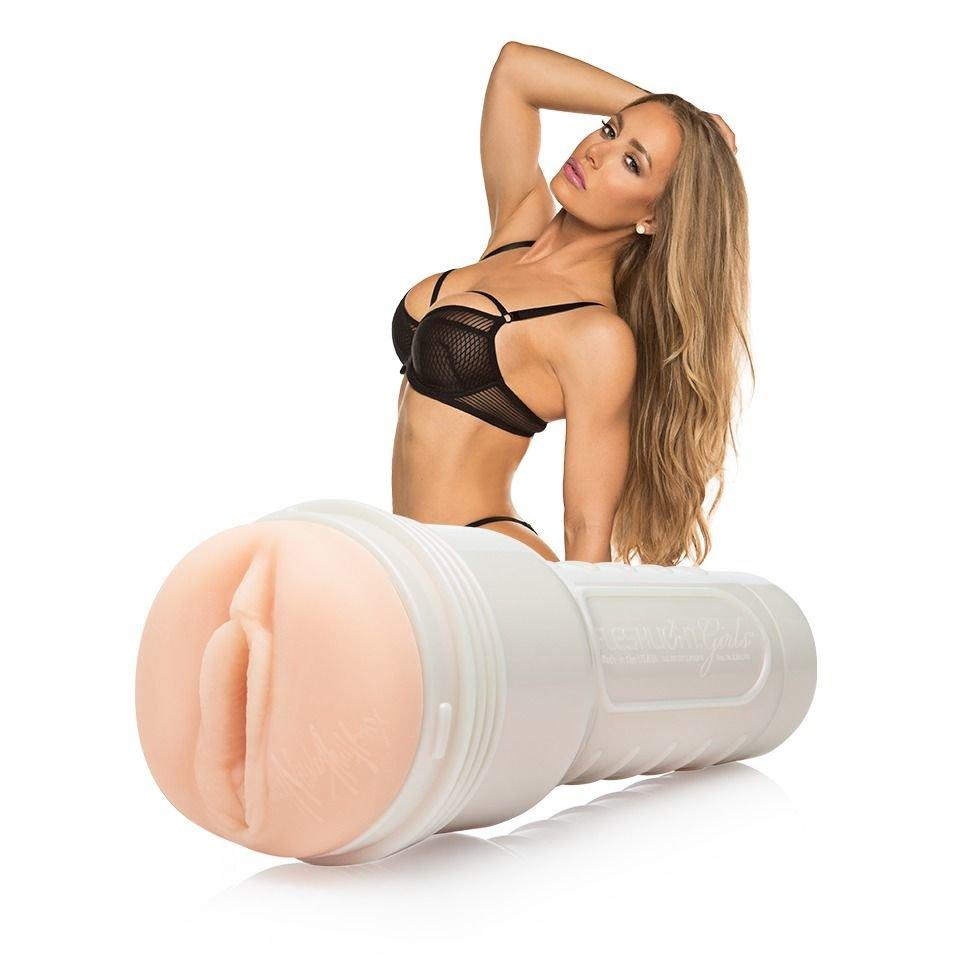 Measurements
The length of the inner channel is 8 inches (ca. 20 cm). The diameter is 0.75 inches (ca. 2 cm).
It's one of the largest Fleshlights produced by the manufacturer and not every man will be able to experience the impressive stimulation of the glans created by the fourth chamber of the sleeve.
Structure
It's also called a Fit model due to its tightness and a possibility to be used as a stamina training unit. Just like Stoya, Nicole Aniston sleeve is made up of several chambers of different intensity.
The entrance is very realistic and it literally represents Nicole's vagina. The chamber you get into on the entrance is 7 cm long. It's got diagonal curved ribs made of bumps.
The second chamber is narrower. It's covered with bumps of different size and shape. Your penis gets into a passage of large bumps first and then passes on to the cluster of tiny, but stimulating dots.
A couple of soft rings gets you to the third chamber, which is rectangular-shaped.
The shape of the bumps in the third chamber is very unusual in comparison to other Fleshlights ever produced by the manufacturer.
They are flat triangles providing you with soft and smooth stimulation preparing you for the entrance to the fourth chamber of the sleeve.
The last chamber was designed for a very intensive stimulation of the glans.
If your cock manages to reach the end of this sleeve, you'll get squeezed in four bump ridges. Users agree that this Fleshlight model results in mind-blowing orgasms.
Maintenance
You'll have to take it out of the casing and turn inside out to clean it properly. It will take time until you finally learn how to do it quick and effective.
Besides, you'll have to wait for several hours till it gets dry on its own. Use warm soapy water to clean it out or invest in a special cleaner for less complicated maintenance.
3. Fleshlight Nicole Aniston: Bottom Line
The washout process is simple.
The design is strange but discreet and stylish.
The entrance is very peculiar with several holes you can use depending on your preferences.
The level of stimulation is incredibly close to life. If you don't pay attention to the transparent design, you'll be impressed by the BJ it gives.

Fleshlight Turbo sleeves are incredibly fragile. You shouldn't drop them on the floor and you have to protect their sticky surface with special chemicals and care agents. Some of them can be purchased here, some of them can be ordered from the website of the manufacturer.
Their overall design has nothing to do with realism. It's sleek and stylish but has nothing in common with the classic Fleshlight models. But don't hesitate to give it a try even if you're a non-experienced user. It may be your perfect first experience.
The maintenance is simple but pretty time-consuming.
Overall Description
Though it has nothing to do with a true-to-life design, it actually feels like a real thing. It's soft, smooth and supple.
A lot of buyers agree that they were hesitating before they finally made their mind to purchase it.
The first thing that made it physically repulsive is the partially transparent design.
However, it turned that this transparency adds up greatly either to a jerk-off session or to a full-fledged sex action.
Turbo Thrust Fleshlight is designed to imitate a close-to-life blowjob: the entrance imitates the throat and tongue.
Besides, there's a possibility to enter it from different angles.
The additional function of these entries is to et the air move in and out of the Fleshlight to promote a more down-to-earth blowjob sensation.
Measurements
The overall weight is about 1.5 pounds (0.68 kg). The full length of the device is 9.75 inches (ca. 25 cm). The insertable length is 8.5 inches (ca. 22 cm).
Structure
The structure is completely non-anatomical
Nevertheless, satisfied customers agree that it promotes incredible sensations making a close-to-real oral session with a possibility of deep throat imitation. It's a got a non-standard see-through design and is released in two options: Blue Ice and Copper. The Copper version is not transparent.
The entrance of the Fleshlight Turbo is very gentle and close to real lips.
It's got several entries in it, making the grip very light and similar to oral caress.
The following chamber is designed to reproduce the tongue stimulation while the third one imitates the throat entrance.
The third section is the longest one and it is made up of numerous rings, waves, ribs, diagonal lines, and nubs imitating the throat. These elements of the third chamber give an impressive deep throat experience.
Yes, this is very close to oral sex with your partner. It can be incredibly useful in case if you have to get away from your partner on business for several weeks or months. This little tool is designed to save you from everyday tension.
Maintenance
Fleshlight Turbo Sleeves are a lot stickier than other masturbation sleeves released by the company.
They demand specific maintenance and they should be protected by talc or baby powder while you're not using them. The manufacturer offers a special renewing powder to deal with the stickiness.
Stickiness. Yes, this characteristic produces the wrong impressions on the newbies in the use of masturbation tools.
Remember that this certain Fleshlight model is always sticky when it's dry.
There's nothing wrong with it. Just invest in a water-based lube and get impressed with the real blowjob imitation.
Take it out of the casing, wash it with warm soapy water, and use the renewing powder on its surface after it gets dry. This way it can be kept for a very long time.
IMPORTANT! Fleshlight Turbo is not compatible with Fleshlight Launch automatic blowjob machine. Generally, this thing is not in line with many products released by Fleshlight.
5. Fleshlight Turbo Thrust: Bottom Line
Incredibly simple cleanup and maintenance;
Tightness and suction imitate the real thing;
Perfect for small men;
Works well with a very little amount of lube.

Low stimulation intensity (if you're an experienced user);
Not very close to reality, but not as intensive as other models produced by Fleshlight – perfect for preliminary stimulation.
Overall Description
The Instructor model is a part of the Flight series by Fleshlight. The second item in the series is Pilot Fleshlight sleeve.
The inside of this model is smooth and actually imitates the real penetration. It doesn't have any tight chambers inside providing its user with a close-to-life stimulation.
This is not a stamina-training unit, but a perfect instrument of enjoyable self-abuse, which is very close to real sex.
Measurements
The diameter of the inner canal is 0.78 inches (ca. 2 cm). The dimensions of the product are 3.2 x 8.2 x 3.2 inches. The length of the inner canal is 7.5 inches (ca. 19 cm) while the insertable length is 6.7 inches (ca. 17 cm).
Structure
The inner canal has no unexpected obstacles. It's free from constrictions and it has a smooth and regular pattern all over its length.
The most part of the inner chamber is covered with eleven rows of bumps. The height of every bump is about 3mm and their width is about 10 mm. The inside of the sleeve has a fixed diameter without interruptions.
There's a peculiar feature for all products in the Flight series: the so-called turbine opening that looks like a swirl, which makes it completely discreet for someone who has no idea about masturbation tools.
A toy like this can be a great present for someone you know very close but have no specific idea about his sexual preferences.
It's a universal design with the simplest maintenance, neutral appearance, and satisfying stimulation.
The toy is available in black or white colors.
Maintenance
Just wash it out with warm water and let it dry on its own. Thanks to its simple structure with nipple-like bumps it gets dry faster than the other Fleshlight models.
Fleshlight Flight series have something in common with the turbo series: these sleeves feel sticky and there's nothing wrong with it.
The trouble is that you'll have to invest in a bottle of Fleshlight Renewing Powder to keep it away from possible deterioration.
Fleshlight Instructor: Bottom Line
It's definitely one of the top among basic products by Fleshlight. It's discreet, it's gentle and it provides its user with e true-to-life sensation.
It has simple maintenance. If you're an experienced user looking for impressive sensations, that's not an acceptable option for you.
It won't give you much of stimulation and it will not help you train your sexual endurance. Nevertheless, that's a perfect, classy option for anyone who needs a regular partner close at hand.
The most realistic Fleshlights on the market
Fleshlights are a type of sex toy designed to replicate the sensation of penetrative intercourse. They are considered among the most realistic sex toys available, offering users an incredibly lifelike experience.
The technology behind Fleshlights has made huge strides over the past few years, with manufacturers continually improving their designs in order to create ever more realistic products.
For example, some Fleshlights now feature multiple layers of different textures and densities that mimic the feel of various body parts, such as lips, tongues and even nipples!
This gives users an incredibly realistic experience that is sure to satisfy their needs.
Fleshlights also come in a variety of shapes and sizes, making it easy for anyone to find one that fits their body type perfectly. Some models even feature unique textures like ridges or bumps that add extra stimulation during use. Additionally, many Fleshlights can be heated before use for a more authentic experience.
Overall, if you're looking for a sex toy that offers a highly realistic and satisfying experience then you should definitely consider investing in a Fleshlight! With its unique design and advanced technology, it's no wonder why these toys have become so popular among pleasure seekers everywhere.
7. Riley Reid Fleshlight
The Riley Reid Fleshlight is a premium male sex toy designed to provide maximum pleasure for the user. It features a realistic look and feel that creates an intimate experience, with a variety of textures and stimulating bumps to give you the perfect sensation every time. The inner canal is lined with stimulating nodes and ridges that make it a must-have for fans of intense stimulation.
The Riley Reid Fleshlight is made from high quality SuperSkin material that is soft to the touch yet firm enough to keep its shape even when in use. The material's texture mimics real skin, allowing for a more realistic experience and making it easy to clean afterward. Plus, it comes in an attractive case with a discreet label so you don't have to worry about anyone finding out your secret weapon!
The Riley Reid Fleshlight also includes a unique suction control feature which allows you to customize your experience every time by controlling how much suction is applied internally.
This makes it easier than ever before to reach new heights of pleasure without any guesswork involved.
You can even pair this male sex toy with lubes or other accessories like vibrators for even more personalized sensation play.
So if you're looking for the perfect combination of realism and stimulation, then the Riley Reid Fleshlight might be just what you need! With its top-notch design and realistic sensations, this product is sure to become your go-to source of pleasure whenever you need some extra satisfaction!
8. Stoya Destroya Fleshlight
If you're looking for something that combines pleasure, fun and a bit of adventure, then the Stoya Destroya Fleshlight is an excellent choice. This male masturbator is designed to provide maximum stimulation with its unique combination of textures and bumps.
The Destroya's entrance features several rings that rotate around the penis as it enters, creating a vacuum-like sensation and providing intense stimulation. As if that wasn't enough, the internal texture contains four different chambers with various bumps and ridges which massage your shaft from all angles. The variety of textures makes this Fleshlight truly special; from tickling ridges to tight constrictions, you'll never get bored playing with this toy!
And if you're after even more pleasure, there's also a vibrating version available.
This has three vibration speeds and seven patterns that will drive you wild.
It's perfect for those who want to take their experience to another level – exploring new sensations in total bliss!
The Stoya Destroya Fleshlight comes in an attractive case which is both discreet and stylish – so nobody will know what naughty adventures await inside! Plus, it's easy to clean (just use warm water) so it can be used time and time again without any worries or fuss.
If you're ready to explore new heights of pleasure, then why not try out the Stoya Destroya Fleshlight today? You won't regret it!
9. Vibro Lady Fleshlight
The Vibro Lady Fleshlight is the perfect toy for anyone looking to spice up their sex life. This innovative device features an array of stimulating vibration patterns that can be used to tease and tantalize your partner in ways you never thought possible. The Vibro Lady Fleshlight also features an ergonomic design that makes it easy to use, while its soft and supple material ensures a comfortable experience. Plus, with its discreet size, you can take the Vibro Lady Fleshlight anywhere without worry! Whether you're using it during foreplay or as part of your bedroom routine, the Vibro Lady Fleshlight will quickly become one of your favorite toys. Its powerful vibrations will provide hours of pleasure that your partner won't forget. Ready to add some excitement to your relationship? Look no further than the Vibro Lady Fleshlight!
10. Brandi Love Fleshlight
The Brandi Love Fleshlight is an incredibly realistic and lifelike male masturbation device that has been designed to replicate the sensation of having sex with the famous adult film star, Brandi Love.
This unique experience can be enjoyed from the comfort of your own home, allowing you to experience all the pleasure and excitement that comes from being intimate with one of the most popular porn stars in the world.
This high-tech toy features a life-like inner sleeve made from SuperSkin material, which provides an incredibly authentic feel and texture as it moves up and down your shaft. The sleeve itself is ribbed for extra stimulation as well as a suction chamber at its base to create an intense vacuum effect that will make you feel like you are really getting up close and personal with Brandi Love.
The device also comes with adjustable speed controls so that you can customize your pleasure level according to your own preference, while its discreet design makes it easy to store away when not in use. Whether you're looking for a more realistic sexual experience or just want to treat yourself to something special, then the Brandi Love Fleshlight is definitely worth considering!
11. Adriana Chechik Fleshlight
Adriana Chechik has been a rising star in the adult entertainment industry for some time now. Her work has garnered her multiple awards and accolades, as she continues to be one of the most sought-after performers in the business. But Adriana isn't just an incredible performer on screen; she is also an innovator when it comes to personal pleasure products. The latest addition to her repertoire of offerings is the Adriana Chechik Fleshlight.
This amazing product provides users with the opportunity to experience an incredibly realistic and pleasurable experience that captures all of Adriana's signature moves and nuances that have made her famous.
The sleeve is designed to provide users with intense stimulation from its stimulating texture, ridges, and bumps, making every movement feel more lifelike than ever before.
Additionally, this product features a special lubricant specifically formulated for use with this sleeve so that users can enjoy even more intense pleasure sessions each time they use it.
What really sets this product apart from other similar offerings is its unique design elements. For example, it features two different textures – one on the inside and another on the outside – creating multiple levels of sensation for users to explore. In addition, it includes several chambers within its sleeve for extra stimulation during use and increased flexibility for better comfort during playtime activities.
The Adriana Chechik Fleshlight is truly a revolutionary product in the realm of personal pleasure products, giving users access to a realistic experience unlike anything they have ever experienced before! Whether you are looking for something special to spice up your solo play or you want something new and exciting to share with your partner, there is no doubt that this amazing product will provide you with all the excitement you need!
12. Launch Fleshlight
Fleshlight is the world's most popular male pleasure toy, designed to simulate the experience of real intercourse. It's a discreet, hygienic and realistic way to bring self-pleasure into your sex life in an exciting and fun manner. From its realistic feel to its multiple levels of stimulation, Fleshlight has revolutionized masturbation for men everywhere.
This revolutionary adult toy was created with comfort and pleasure in mind, allowing users to enjoy intense orgasms without having to worry about any uncomfortable or awkward moments. With its ergonomic design and one-of-a-kind material that mimics the feeling of real skin, Fleshlight provides users with a truly unique experience unlike any other toy on the market.
The sleeve of each unit is made from patented Superskin™ material that warms quickly with body heat and stretches easily for maximum comfort.
There are also several different textures available so you can customize your experience depending on what type of stimulation you prefer.
To ensure hygiene and safety, Fleshlight products are easy to clean after use with warm water and mild soap before drying completely with a lint-free cloth or towel. Thanks to its unique design, no lubricant is required when using this product – simply add a few drops of water-based lubricant prior to insertion for enhanced pleasure and better grip.
Fleshlight brings an entirely new dimension to solo playtime for men everywhere – it's not just about masturbation anymore! With its realistic feel and customizable features, it helps take your sex life up a notch whether you're flying solo or spicing things up between the sheets with your partner. So why not give it a try? Experience something truly remarkable today – launch Fleshlight!
13. Alexis Texas Outlaw: Tight & Realistic
When it comes to the Alexis Texas Outlaw, there is no denying that it is a tight and realistic product. This silicone-based masturbator from Fleshlight is designed to mimic the sensations of real sex with its tight inner texture and realistic detailing. The unique shape of the Alexis Texas Outlaw allows for an enhanced experience, as the curves provide different kinds of stimulation.
The materials used in this product are top-notch: the soft, supple silicone feels great against your skin, while the included lube slides easily over it for an even better experience. Plus, cleaning up afterwards is simple thanks to its easy-to-clean design.
For those looking for something more intense than just a basic masturbator, the Alexis Texas Outlaw provides plenty of options.
With multiple speed settings and a variety of textures available, you can create your own personalized pleasure experience every time you use it.
And if you're feeling adventurous, you can even try using it with other toys or accessories!
No matter what kind of pleasure you're seeking out, the Alexis Texas Outlaw has got you covered — literally! Its tight inner walls provide intense stimulation while still being comfortable enough to use without any discomfort or pain. This makes it a great choice for those who are new to sex toys or simply want something that offers a bit more realistic feel than some other products on the market.
Overall, if you're looking for a high-quality masturbator that's both tight and realistic then look no further than the Alexis Texas Outlaw! With its exceptional design and materials, this product provides users with an enjoyable experience every time they use it – making it one of our top picks when it comes to male sex toys!
14. Mini-Lotus most realistic fleshlight
The Mini-Lotus Fleshlight is the perfect toy for those looking to take their pleasure experience to the next level. This advanced stroker features a realistic, ultra-tight design that mimics the sensations of real sex. It's made from a soft, supple material that feels comfortable against your skin, and its internal texture offers an array of stimulating bumps and ridges that will have you begging for more!
The Mini-Lotus Fleshlight is designed to provide you with an incredibly realistic experience. Its tight inner sleeve is lined with stimulating bumps and ridges that will make every stroke feel amazing.
The unique shape also ensures maximum contact with all areas of your shaft, delivering intense pleasure from start to finish.
Plus, it's easy to clean and maintain so you can enjoy it again and again!
Whether you're looking for a way to spice up solo play or want something special for couple time, the Mini-Lotus Fleshlight is sure to exceed your expectations. With its realistic design and ultra-tight texture, this versatile stroker will deliver intense satisfaction with every use. Get ready to experience pleasure like never before – grab your Mini-Lotus Fleshlight today!
15. Asa Akira most realistic fleshlight
The Asa Akira most realistic fleshlight is a product that has revolutionized the male sex toy industry. It provides users with an incredibly lifelike experience, thanks to its innovative design and high-quality materials. The material used in this product is soft and supple, allowing for a more realistic feel that enhances the overall pleasure of using it. Additionally, it features a texture that mimics the sensation of skin-on-skin contact for an even more immersive experience. This makes it ideal for those who want to explore their sexuality in a safe and comfortable way.
The design of this product was created by the iconic adult film star Asa Akira herself, so you can be sure you're getting something truly special when you purchase one. The exterior of the Fleshlight is designed after her anatomy, providing users with an incredibly accurate representation of what it would feel like to have intercourse with her in real life.
Additionally, this product also includes several other features such as adjustable suction control, multiple speed settings, and vibration options which make it even more enjoyable to use.
Overall, the Asa Akira most realistic fleshlight is a great choice if you're looking for a top-of-the-line male sex toy that will provide you with hours of pleasure and satisfaction.
If you're interested in exploring your sexuality or just want to spice up your bedroom activities then this product is definitely worth checking out!
16. Janice Griffith most realistic fleshlight
Janice Griffith is a professional adult film star who has been in the business for over a decade. She's also one of the most popular stars on the internet and her influence on the industry continues to grow. With all this success, it's no surprise that Janice has recently teamed up with Fleshlight to create an incredibly realistic replica of her vagina. It's a unique product that not only looks just like Janice but also feels like her too!
The Janice Griffith Fleshlight is crafted from high-quality materials that make it feel incredibly real to touch. The sleeve itself is made from SuperSkin, which is designed to replicate the sensation of skin-to-skin contact as realistically as possible. Not only does it look great, but it also performs amazingly well in use. It provides plenty of stimulation and will even warm up when you use it – making it even more lifelike!
In addition to its realistic construction and attention to detail, what really sets this product apart is its versatility. Not only can you enjoy intense vaginal stimulation with your Janice Griffith Fleshlight, but you can also adjust the tightness level with its adjustable end cap – allowing you to find just the right amount of pressure for your pleasure.
If you're looking for an incredibly realistic experience that feels just like being with Janice herself, then look no further than the Janice Griffith Fleshlight!
This amazing product combines top-notch construction with amazing performance so that you can enjoy an intensely satisfying experience every time.
If you've been searching for something that looks and feels just like the real thing – then this product is definitely worth checking out!
What is a Fleshlight?
A Fleshlight is a type of male sex toy, designed to simulate the sensation of sexual intercourse. It consists of an outer casing – typically molded from real-life body parts – with a soft, fleshy inner sleeve that is designed to replicate the feeling of penetration. The device can be used solo or with a partner and provides a more realistic experience than other types of masturbation toys.
Fleshlights are made from high-grade materials such as silicone and elastomer to ensure that they feel as close to the real thing as possible.
They also come in various sizes and shapes to suit different preferences.
Some even feature textures inside for added pleasure during use.
Fleshlights are great for those looking to increase their enjoyment during solo play or add something new and exciting into their relationship. They can also provide extra stimulation during oral sex, allowing users to have more intense orgasms than ever before! Furthermore, Fleshlights are incredibly easy to clean and maintain, making them ideal for couples on the go who don't have time for complicated cleaning rituals after each use.
In short, Fleshlights provide an incredibly lifelike experience that can help spice up your love life or simply enhance your solo pleasure sessions in ways you never thought possible. So why not give one a try today?
What types of sleeves are available for Fleshlights?
We've all heard of a Fleshlight, the infamous sex toy that has become a staple of bedroom play. But did you know there are different types of sleeves available for use with your Fleshlight? That's right – you can customize your experience and find a sleeve that best fits your desires, no matter what they may be.
The most common type of sleeve is the original SuperSkin material, which is made from a unique blend of natural materials to provide an incredibly realistic feel. This type of sleeve comes in various shapes and textures, such as bumps or ridges, so that you can enjoy different sensations throughout your session.
The SuperSkin material is also known to be very easy to clean and maintain; simply rinse it with warm water after use and allow it to air dry before storing it away.
Another popular option for Fleshlights is the Ice Edition; this sleeve features crystal clear material, giving it a more lifelike look than its predecessor.
This version also provides a unique sensation as the cool material glides over your skin – making sure you never get too hot during playtime! The Ice Edition is compatible with both water-based lubricants and silicone-based lubes, meaning you can experiment with different types to find the one that works best for you.
Finally, there's the Stamina Training Unit (STU) sleeve – designed specifically for those who want to improve their sexual endurance. This sleeve features firmer bumps along its length that provide extra stimulation during use; helping users build up their stamina over time. The STU is great for couples who want to challenge themselves or single users looking to push their limits even further!
No matter what type of Fleshlight experience you're looking for, there's sure to be a sleeve out there that suits your needs perfectly! From classic SuperSkin options through to unique Ice Editions and Stamina Trainers – take some time to explore all these amazing products have to offer and get ready for an unforgettable night in the bedroom!
What is the most realistic Fleshlight?
The Fleshlight is arguably the most popular sex toy in the world, providing users with an incredibly realistic and satisfying experience. But with so many different models to choose from, it can be difficult to determine which one provides the most realistic experience. To help narrow down your search, we've put together a guide on what makes a Fleshlight the most realistic option available.
First and foremost, the material of a Fleshlight plays a huge role in determining how real it feels.
Many Fleshlights are made from real-feel Superskin™ material, which is designed to mimic the feel of human skin for a truly lifelike experience.
Not only does this material make each stroke feel incredibly natural and satisfying, but it also warms up as you use it to create an even more realistic feeling.
Another factor that contributes to realism is texture. Different textures are designed to provide different sensations, ranging from soft and gentle strokes to intense pressure points and ribbed surfaces. For those looking for a more lifelike sensation when using their Fleshlight, choosing one with multiple levels of texture will provide the best results – just like when having sex with another person!
Finally, size matters when it comes to making sure your Fleshlight is as realistic as possible. There are options available in various sizes so you can find something that accurately replicates whatever body part you want – whether that's penis or vagina – giving you an extremely close approximation of how it would feel in real life. It's important to note that some sizes may be too large or small for certain users, so it's always best practice to measure yourself beforehand so you know what size will work best for you.
Overall, there's no clear cut answer when deciding which Fleshlight is the most realistic option out there; everyone has their own preferences when it comes to material type, texture and size – all of which contribute greatly towards creating a lifelike experience when using your toy! However, by following our comprehensive guide above on what makes a Fleshlight realistically pleasurable for its user – there's no doubt you'll find something perfect for your needs!
How do I clean my Fleshlight?
It's no secret that Fleshlights are one of the most popular sex toys for men. These products offer a unique, enjoyable experience that can help enhance your sexual pleasure and satisfaction.
But after enjoying your new toy, you may be wondering how to properly clean it so you can keep it in great condition.
Luckily, cleaning your Fleshlight is relatively easy – just follow these simple steps!
First, you'll need to gather some supplies: a mild soap (ideally one designed specifically for sex toys), warm water and a soft cloth or sponge. Start by running warm water over the exterior of the Fleshlight to remove any excess lube or bodily fluids. Then apply a small amount of soap onto your cloth or sponge and gently massage it into the material. Make sure not to use too much pressure – this could damage the product! Once finished, rinse off the remaining suds with warm water and dry with a clean towel.
Next, if you've purchased an insertable sleeve for your Fleshlight, carefully remove it from its casing and run warm water over both sides of the sleeve to remove any lube or bodily fluids. You can then apply a small amount of soap onto your cloth or sponge again, gently massaging it into both sides of the sleeve before rinsing off any remaining suds with warm water and drying with a clean towel.
Finally, if you're using an aerosol-based lubricant spray on your Fleshlight (which we don't recommend!), make sure to use an antibacterial cleaner such as rubbing alcohol before storing away in its protective case.
This will help ensure that all bacteria is eliminated from both the exterior and interior surfaces of your toy before storing away in its protective case!
Following these steps should help keep your Fleshlight squeaky clean and ready for action whenever you're feeling frisky!
And remember – always practice safe sex when using any type of sex toy!