Not everyone is experienced enough to be able to recreate the desired positions during intercourse.
A sex pillow is a liberator that manages to widen the range of possible motions and make your sex sessions safe, comfortable and especially enjoyable.
You'll have a chance to try an exotic position and finally experience an unbelievable orgasmic bliss.
A new impression for your brain that you'll be looking forward to again and again!
Detailed Descriptions & Customer's Feedback
Now let's pass on to the details and special features of these amazing sex enhancement tools.
1. Liberator Sex Position Wedge
One of the nicest enhancements for your bedroom!
This sex pillow by Liberator is mutually attractive: it elevates the lovers' bodies at a perfect physiological angle providing a more intensive contact with the clit and deeper penetration of the penis.
Besides, the angle is specially designed for women willing to finally reach this incredible g-spot orgasm.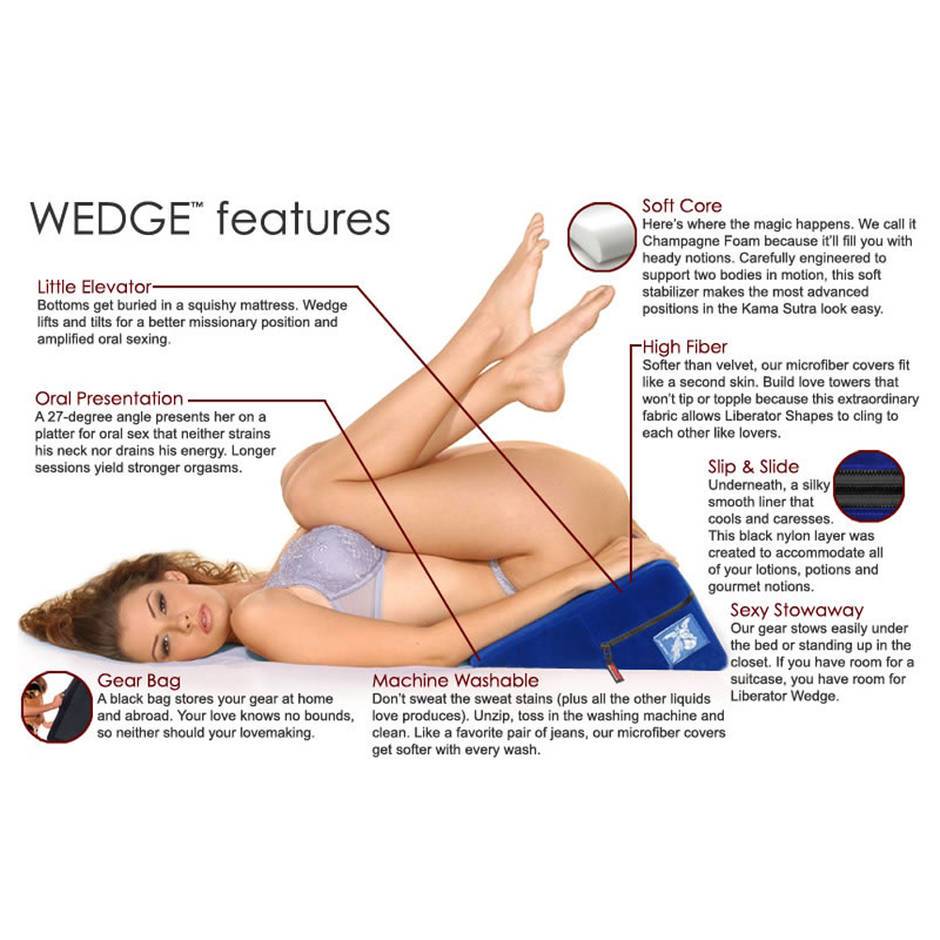 If you're in search of magnifying sensations, it's high time to try a new way of getting pleasure thanks to the impressive items offered by the Liberator company. Wedge will not only bring physical bliss into your everyday intimacy.
It will also develop your regular relationship in a couple.
Users of sex pillows agree that their presence at home literally makes partners beg each other for more sexual pleasure.
It's inspiring for partners of all genders and sexual preferences – you just have to relax and make sure your partner is ready to cooperate with you.
Material
The microfiber cover of the pillow can be removed and washed in the machine. The base of the Wedge sex pillow is made of the so-called champagne foam. It's soft, warm and smooth for any part of your body.
Measurements
Wedge sex pillow weighs two pounds. The dimensions are 14x24x7 inches. The parcel will weight a bit more than 3 pounds. The overall size of the pillow allows discreet and convenient storage under most beds. The size will be suitable for a closet as well.
Design & Color
Presented in blue or black microfiber.
Special Features
1. An incomparable sex boost promoting deeper penetrations and more intensive clit stimulation;
2. The manufacturer promises a wide motion range;
3. It's one of the most expensive and most effective options at a time.

2. Liberator Sex Position Wedge
Wedge Customer Feedback
It actually feels smooth and it's definitely resistant to all types of liquids;
Incredible for a missionary sex position;
Offers a really deep penetration without compromising comfort;
It's lightweight and sturdy at a time;
Leads women to unpredictable squirting orgasms;
Some customers use Wedge as an actual workout tool.
Liberator Sex Position Wedge Ramp Combo
One of the best lift bros for people willing to get maximum pleasure from regular intercourse.
Most users call it one of the greatest inventions in the world of sex pillows.
It's ready to face your desires and satisfy your needs as well as the needs of your partner. It's a revolutionary tool for deeper, lustful and more intensive action.
The Wedge sex pillow produced by Liberator is firm enough to hold two moving bodies at once. Just make sure it's clean and dry before you proceed with the action.
Material
Made without latex. The Wedge Ramp Combo case is removable. It's fully made of non-slip microfiber and can be loaded into a regular washing machine. The surface of the fabric is resistant to the impact of all types of liquids.
Measurements
Ramp measurements are 34x24x12 inches. Wedge measurements are 24x14x7.
Design & Color
Black or red, silky and stylish. Looks like a piece of exercise equipment or an exquisite furniture piece. Discreet, attractive, and convenient.
Special Features
1. The cushions are detachable. They can be used to enhance any of your sex positions.
2. The pillow makes you have sex at the best angle (27 degrees), which enables you to get in contact with the most sensitive spots of the intimate parts of your body.
3. The Liberator cushions in the construction are destined to enlarge your range of motion as well as the one of your partner.
4. Stable balance and support of the construction will lead you to mind-blowing orgasms.

Wedge Ramp Combo Customer Feedback
Most suppliers send the Wedge Ramp Combo sex pillow in an incredibly large box. They fill the parcel with soft stuffing in order not to damage the ordered item. Make sure you have someone to help you get it into the house and don't feel embarrassed, because every supplier working in collaboration with the manufacturer of the Wedge Ramp Combo sex pillow is obliged to deliver the discreetly looking parcel. There won't be any signs or stamps on the surface of the parcel that can reveal your secrecy.
The Wedge Ramp sex pillow looks luxurious and sleek. It's perfect for the use in bed. It's lightweight and sticks to the bedsheets without ruining them.
It's pleasing to lie on the Wedge Boost after the sex act.
The size may feel a bit too much for some users. Nevertheless, the maintenance is simple and the overall quality of the construction is enjoyable.
3. Adam & Eve Inflatable Position Pillow
This sex pillow can be a nice budget replacement for the well-known and tested Wedge sex pillows.
It is ready to support your every sex position.
It's one of the most affordable bed toys on the market and it also works as a nice liberator of movements in the process of sexual intercourse.
The physiologically designed shape of these pillows is destined to support your chief muscles and joints while you enjoy intimacy with your partner. It holds your back, chest, and hips better than your bed.
Material
The surface of this liberator sex toy is made of a flocked material that prevents unwanted slippage – the pillow will always stay in place no matter how hard your actions are.
Measurements
The overall length is 24 inches with 16 inches width. The height of the platform is 4-8 inches depending on the curve.
Design & Color
Special Features
1. Adjustable to a lot of positions;
2. Lightweight and easily gripped;
3. Compact and discreet for everyday use and storage;
4. The pillow has a built-in seal valve for a natural feel;
5. Maximum weight is 300 pounds

TIP: In case if you're a sophisticated user interested in the development of your sexual experiences, you can let your partner tie you up to this pleasure tool, relax your limbs and enjoy all pleasures of the sexual intercourse in a perfect physiological position.
Adam & Eve inflatable position pillow is perfect for the couple as well as for the solo action.
You can rest on it after you reach your throbbing orgasmic sensation.
It's pleasing to the touch and it doesn't demand any specific maintenance.
This sex pillow is not only a financially sensible solution – it will deliver new thrills to your regular intimacy.

Sex Pillow Benefits
In case if you've never been interested in sex pillows, consider the following:
Pillows help you get to the explosive mutual orgasms due to their physiological structure. Even the cheapest versions are able to spice up your sexual life.
Pillows make you bodies automatically adapt to the most physiologically satisfactory positions. In case if you're a newcomer in the world of intimate pleasure, a sex pillow can become one of your best investments. It will help you explore deeper into your sexuality and get used to getting orgasms from vaginal, anal, oral, and other types of sex without any specific knowledge. A pillow like this will direct you intuitively.
Quite a lot of women agree that the best sex pillows are perfect for getting pregnant in case if you are following the prescribed schedule. Every sex pillow is designed with the anatomy in mind and it doesn't demand any specific knowledge to be properly used.
A sex pillow is a flawless tool for those who want to discover the hidden peculiarities and best possibilities of your body. The Wedge by Liberator is one of the most expensive options. Nevertheless, even the least expensive pillows will add up spice to your sex life.
It's a Delicate Matter
Be prepared that the parcel containing your best sex-pillow will be lightweight, but quite big.
We'll have to fill in the parcel with a lot of soft and elastic filling in order to preserve the structure and functionality of the pillows inside.
These thingies are very fragile. Your parcel will never have any specific signs and stamps on the outside.
You'll get your parcel discreetly. It's especially important in case if you're planning to make a sweet surprise for your partner.
Bottom Line
Use your sex pillow with vibrators, Symbian machines, and best dildos. Never forget about a water-based lubricant in case if you're interested in a true-to-life wet action.
Keep in mind that using massage oils on the surface of sex pillows can lead them to unwanted deterioration.
What are the best sex pillows?
When it comes to enhancing your sexual pleasure, a sex pillow can be an incredibly useful tool. Sex pillows provide ergonomic support and help to create more pleasurable angles during intercourse. They come in a variety of shapes and sizes and can be used for everything from bettering your bedroom game to helping with chronic pain.
The most popular sex pillow is the wedge pillow. This type of sex cushion provides extra height to give you more control over your body position, allowing for deeper penetration and increased clitoral stimulation. It's also great for trying out new positions without straining your back or legs as much. Wedge pillows are usually made of foam, which makes them well-suited to providing support while being comfortable enough to make sex enjoyable instead of uncomfortable.
Another popular option is the ramp-shaped pillow, which acts like a bridge between two flat surfaces.
Ramps provide the perfect angle for oral sex or riding positions, helping you find just the right spot without having to worry about slipping off or not being able to get into position comfortably in the first place.
Pillow ramps are usually made from either foam or microfiber materials that make them easy on the skin and supportive enough to give you a good ride!
Finally, donut pillows (also known as "love cushions") offer circular comfort that's perfect for doggy style positions as well as missionary variations that involve sitting up on your knees instead of lying flat on your back. Donuts are often made from plush materials that are soft yet supportive—ideal for cuddling after sex!
No matter what type of sexual experience you're looking for, there's sure to be a sex pillow that can help take things up a notch (or two). Whether you choose something classic like a wedge or ramp, or opt for something more creative like an inflatable donut or even one designed specifically with bondage in mind—there's no shortage of options when it comes to getting intimate with the help of some special cushioning!
1. The Liberator Jaz Sex Pillow/Cushion
The Liberator Jaz Sex Pillow/Cushion is the perfect accessory for those looking to spice up their bedroom routine. Combining comfort, support and pleasure, this versatile cushion lets you explore a variety of sex positions with ease. This ergonomically designed pillow has an angled top and a flat base that provide the ideal angle for deeper penetration during sex.
The memory foam core provides maximum comfort and support, while the removable microfiber cover is machine-washable for easy cleaning.
Its unique design allows it to be used on any bed or floor surface and can even be used as a body pillow for added comfort during sleep.
With its sleek look and clever design, the Liberator Jaz Sex Pillow/Cushion is perfect for couples who are looking to enhance their sexual experience in the bedroom.
2. The Wedge by Liberator – best sex pillow
When it comes to spicing up your sex life, the Wedge by Liberator is the ultimate accessory. The wedge-shaped pillow provides a range of versatile support that can be tailored to any position, allowing for deeper penetration and more satisfying sexual experiences. The firm yet comfortable foam construction means that it won't lose its shape over time, and its waterproof cover makes clean-up a breeze. Whether you're using it for better access during oral sex or just trying out new positions, the Wedge will help take your bedroom activities to new heights! Plus, its compact size makes it easy to store when not in use. With its unique design and superior comfort, the Wedge by Liberator is sure to be a hit with couples looking for ways to enhance their intimacy and add some excitement into their love life.
3. The Inflatable Toughness Sex Pillow
If you're looking for a way to spice up your love life and make it more enjoyable, then the Inflatable Toughness Sex Pillow could be just what you need. This pillow is designed to provide both comfort and support during intimate moments, making for a more pleasurable experience for both partners.
The pillow's unique design allows it to be inflated according to your preference, providing extra cushioning and allowing you to customize the level of firmness or softness.
It's also ergonomically curved, so it fits snugly against either partner's body while still providing enough room for movement.
Additionally, the pillow is made from high-quality materials that are strong enough to withstand vigorous use without tearing or puncturing, ensuring longevity and durability.
The Inflatable Toughness Sex Pillow is an excellent choice if you're looking for a way to make your bedroom activities even more enjoyable. With its customizable firmness and ergonomic design, it's sure to provide both comfort and support while giving your love life an exciting boost!
4. The Wing by Liberator – best sex pillow
The Wing by Liberator is the ultimate sex pillow. This versatile cushion can be used in a variety of ways to enhance your sexual pleasure and position options. With its unique design, The Wing provides support and comfort while allowing you to explore new positions with ease.
The Wing's patented shape and construction was designed to provide maximum comfort and support for extended periods of time. Its ergonomic design allows it to fit comfortably between your body and mattress without compromising either. It also has an adjustable neck roll that can be customized to fit the desired position for both partners.
The Wing comes with two removable covers, each made from high-quality materials so you can enjoy comfortable, long-lasting use.
One cover is made from microfiber fabric that's soft on skin while the other cover is waterproof making it easy to clean up after use.
The Wing also comes with two straps that make it easy to attach it securely to any bed frame or headboard (or even floor) for extra stability during sex play sessions.
In addition, The Wing features an inner core of high-density foam which provides superior cushioning and flexibility for a truly comfortable experience every time. Plus, its innovative design helps alleviate pressure points and reduce muscle strain so both partners can enjoy a more pleasurable session!
Ultimately, if you're looking for an all-in-one sex pillow solution that will take your bedroom game up a notch, then The Wing by Liberator should definitely be at the top of your list!
5. The Pillo by Dame – best sex pillow
The Pillo by Dame is the latest innovation in sexual wellness and pleasure. This revolutionary sex pillow has been designed to provide ultimate comfort and support while you explore new ways of pleasure. The Pillo was created with the aim to make it easier for people to reach all their favourite positions, as well as to help them get deeper into each one.
The pillow is made from a luxurious blend of memory foam and comfortable microfiber, making it both supportive and inviting for long-lasting pleasure sessions.
It features an ergonomic design that contours your body, allowing you to find exactly the right spot for each position.
The Pillo also boasts a clever 'no-slip' base which keeps it firmly in place during passionate moments.
Whether you're solo or playing with a partner, the Pillo is sure to spice up your sex life! Its versatility means that all kinds of creative positions are now possible – whether you're exploring anal play, G-spot stimulation or something else entirely. Plus, its lightweight design makes it easy to store away after use.
With its exceptional quality construction and innovative design, the Pillo by Dame is undoubtedly the best sex pillow on the market today! So why not take your sexual experiences to new heights – and discover what this amazing sex accessory can do for you?
6. The Jaz by Liberator – best sex pillow
The Jaz by Liberator is the perfect sex pillow for those looking for luxury and comfort. This unique pillow provides couples with multiple positions and angles to explore new ways of pleasure during intimacy. The ergonomic design of the Jaz ensures that both partners are comfortable while experiencing a variety of sexual activities.
The high-density foam core construction of the Jaz offers superior support, allowing you to enjoy long nights of pleasure without any strain on your body. The adjustable firmness feature allows you to customize the cushioning for different activities, so you can find your perfect fit. And if you're feeling extra adventurous, you can even take it outside thanks to its waterproof cover!
Aside from comfort, another great thing about the Jaz is its discreet design.
Its black microfiber outer covering makes it look like a regular throw pillow – which means you won't have to worry about anyone knowing what it's really used for!
Plus, with its removable inner zip cover, cleaning and maintaining this sex pillow is quick and easy.
Whether you're looking for something special to spice up your bedroom routine or just want an easier way to switch between intimate positions, the Jaz by Liberator is definitely worth checking out! With superior support and comfort combined with discretion and style, it's no wonder why this sex pillow has earned rave reviews among couples everywhere!
What are the best sex pillows available?
Sex pillows are an incredibly versatile tool for achieving optimal comfort and pleasure during intimate activities. Not only can sex pillows make certain positions more comfortable for both partners, but they also help to create new angles that can lead to exciting new sensations. With so many different shapes and sizes available, it might seem overwhelming trying to choose the best sex pillow for your needs. Fortunately, we've compiled a list of some of our favorite sex pillows to help you find the perfect one for you and your partner.
First up is the Liberator Wedge Ramp Combo, which is an incredibly popular choice among couples looking for something to spice up their bedroom playtime. This set includes two pieces—a ramp and wedge pillow—that can be used separately or together in order to create various angles and levels of elevation while engaging in intimate activities.
Whether used alone or stacked together, these pieces will provide extra support while creating new possibilities for positioning during intercourse.
Next is the Jaz Motion Pillow from Liberator which offers a variety of uses when it comes to improving sexual experiences.
It's designed with an ergonomic shape that contours well with any body type, making it a great choice for those who want maximum comfort during intercourse or oral stimulation. Additionally, this pillow is made with anti-slip fabric which ensures that it won't move around too much while you're getting down and dirty!
Last on our list is the Velvet Fantasy Sex Sling from Sportsheets which provides adjustable support between two partners during intercourse as well as easy access points to all their erogenous zones. This sling has adjustable straps that allow you to customize the height in order to achieve multiple angles while engaging in various sexual positions – perfect for those looking to explore deeper penetration or BDSM play! Its sturdy construction also allows it to hold up under pressure without becoming uncomfortable or slipping out of place during use.
Choosing the right sex pillow can be daunting task; however, if you take into consideration your partner's preferences and body type then you should have no trouble finding something that works perfectly! Whether you're looking for something soft and supportive like the Liberator Wedge Ramp Combo or something more adventurous like the Velvet Fantasy Sex Sling – there are plenty of options out there that are sure to please both partners!
What are the benefits of using a sex pillow?
Sex pillows are a great way to enhance your sexual experiences, as they can help you find new and interesting positions that might not be possible without their assistance.
They also allow for deeper penetration and provide support for those who may have joint and muscle pain during sex.
Furthermore, as the pillows come in a variety of shapes, sizes and textures, they provide an element of novelty to your bedroom activities.
The main benefit of using a sex pillow is that it helps you achieve new and stimulating sexual positions with ease. Whether it's doggy style, cowgirl or missionary position, the pillow gives you more range of motion which can help make them more enjoyable and exciting. Sex pillows also reduce friction between your bodies, making it easier for both partners to move around freely without having to worry about uncomfortable body parts rubbing against each other.
In addition, a sex pillow can provide better support during intercourse if one partner has issues with mobility or joint pain. This type of pillow is designed specifically to prevent strain on sensitive areas like hips and knees while providing comfort and stability so both partners can enjoy the experience without worrying about potential injury or discomfort.
Finally, sex pillows add an extra level of fun to your bedroom activities as they come in different shapes (such as wedge-shaped), sizes (from small to large) and textures (soft velvet or faux fur). As such, experimenting with different types of sex pillows can at least break up the monotony if not spice up your love life altogether!
What materials are used in sex pillows?
Sex pillows are unique pieces of furniture designed to enhance the sexual experience. They come in a variety of shapes and sizes, and can be used to make any position more comfortable.
Most sex pillows are made with soft materials such as memory foam or polyester fibers, which provide cushioning and support for both partners during intimate moments.
Other materials like latex and rubber can also be used to give the pillow a firmer feel.
Some pillows even have built-in vibrators or other features that add extra stimulation during intercourse. No matter what type of material is used, sex pillows should always be covered with a washable cover to keep them clean and hygienic for use.
What positions can be achieved with a sex pillow?
The possibilities of using a sex pillow are seemingly endless! Depending on the size, shape and material of the pillow, you can find yourself in any number of positions that will help enhance your sexual experience. The most popular use for a sex pillow is to provide additional support during doggy style and missionary positions. This allows for deeper penetration, increased pleasure and more control over thrusting.
If you're looking to add some extra spice to your bedroom routine, you can also try out some new positions with the help of a sex pillow. Try elevating your hips with a wedge pillow or rolling up a bolster pillow for extra lift in cowgirl or reverse cowgirl. You can even get creative by placing one under your lower back while lying on your stomach; this position not only provides support but also relaxes the muscles in the lower back and helps delay orgasm.
No matter which type of sex pillow you choose, they can be used as an accessory during any kind of sexual activity – from solo masturbation to couples playtime.
They can also be used as part of foreplay, providing comfort while experimenting with massage or oral sex.
Sex pillows come in various sizes and shapes, so it's important to find one that works best for you and your partner(s). With all these options available, there really is no limit when it comes to exploring what positions can be achieved with a sex pillow!
Are sex pillows comfortable to use?
The short answer to this question is yes, sex pillows are indeed comfortable to use. Sex pillows are designed with comfort in mind, and many of them come with features like adjustable height, firmness, and even texture that can help you get the most out of your experience. Whether you're looking for something to spice up your bedroom routine or just a way to make some positions easier, a sex pillow is an incredibly versatile tool that can add a lot of comfort and pleasure to your life.
When it comes down to it, choosing the right sex pillow for you will depend largely on what kind of activities and positions you plan on using it for. Some pillows are made specifically for deeper penetration or G-spot stimulation, while others are better suited for clitoral stimulation or rear entry positions. With so many options available, there's sure to be one out there that meets all your needs!
In addition to being comfortable and functional during sex, sex pillows also offer plenty of health benefits as well.
For instance, they can help support the spine while in certain sexual positions by providing extra cushioning between the back and any hard surfaces.
This prevents strain on the lower back which can lead to pain or discomfort during intercourse. Additionally, having a pillow around during intercourse can also increase blood flow throughout your body which helps enhance sensation and arousal levels during the act itself.
All in all, if you're looking for something that will increase both comfort and pleasure during sex then a sex pillow could be exactly what you need! With its versatility in design and functionality it really is an essential tool for anyone who wants more out of their sexual experience!
How do you clean and care for sex pillows?
Sex pillows, also known as body pillows or wedges, can be an invaluable tool for helping to get the most out of your sexual experience. However, if not properly cared for, these pillows can become breeding grounds for dust mites and bacteria – not exactly something you want in the bedroom! With just a few simple steps, you can ensure that your sex pillow is clean and ready for action.
First off, it's important to make sure you are using a pillowcase with your sex pillow. This will help keep the material from collecting dirt and lint that could interfere with its comfort level. It also provides an extra layer of protection against any fluids that may occur during use.
When it comes time for cleaning your sex pillow, it's best to start with a vacuum cleaner; this will help remove any surface dirt or debris quickly and easily.
You can then use some mild detergent mixed with warm water on a damp cloth to spot clean any stains or spots on the pillow itself.
Make sure to rinse off the detergent completely before allowing it to air dry completely – never put your sex pillow in a clothes dryer!
If you have removable covers on your sex pillows (which many do) then those should be removed and washed separately according to their care instructions – typically cool-to-warm water on the gentle cycle will suffice. As always, be sure to read the manufacturer's instructions before attempting any sort of cleaning process of your own design.
Finally, make sure to store your sex pillows in a cool and dry place when not in use; this will help them last longer and stay free from dust mites and other nasty bugs that may otherwise take up residence inside them. With these tips at hand, you'll be able to enjoy all sorts of naughty positions without having to worry about cleanliness!