The fans of anal sex are often looking for dildos, butt plugs, and other sex toys. But there is one important thing that everyone should know before trying anal funs.
We mean a special procedure called douching. This simple hygiene manipulation is a necessary step to make anal sex safe and, as the result, more pleasant.
So, choosing any kind of sex toys you should add to your list an anal douche.
Don`t be afraid, the popular models are thought to the smallest details to make the douching procedure without any unpleasant filings.
But you should also know how to choose the best model and what characteristics are the most important.
What is an anal douche?
It`s a great tool that is intended to clean out the rectum from an anal pass.
It should be used prior to the anal sexual act to avoid unpleasant accidents during the process. How does it work? Too easy!
The water is administered through the douche and then it expelled back taking all the waste from the rectum.
During the douching, you feel something like a shower.
You should know that there is a difference between an anal douche and an enema.
It concerns the volume of water. In douches, the amount is less than in enemas. In the other moments, they are the same.
Top 4 best anal douches
So, this is a very serious step to choose a tool that will be comfortable for you.
In our catalog, you will find models with different volumes, materials, and prices but all of them were approved by anal sex lovers and have good reviews.
1. BASICS Anal Douche 225ml
The perfect and really necessary thing for fans of anal sex.
Ideal measures.
Too easy for insertion.
A great model for beginners and also for people with experience.
Comfortable squeeze bulb body and slim nozzle.
Easy for using before anal sex and cleaning.
Could be also used at night due to glowing in the dark tip.
A big volume of the bulb that contains 225 ml.
You can also use it in a shower.

The price of this enema is not the cheapest one.
For those, who prefer perfect quality Basics douche will be the best variant.
With this tool, all cleaning procedures that should be done before anal sex, are really easy and enjoyable.
Very slim nozzle and handy bulb make it useful for both men and women of all ages.
If you are looking for the first enema for douching we also recommend you to try this model.
Main characteristics
Volume: 225 ml.
Insertable Length: 2.5 inches.
Full Length: 7.5 inches.
Material: Basics model is made of rubber and doesn`t contain phthalates.
The color: red squeeze bulb and white tip.
Water tightness: Yes.
Additional information. It is not compatible with a harness.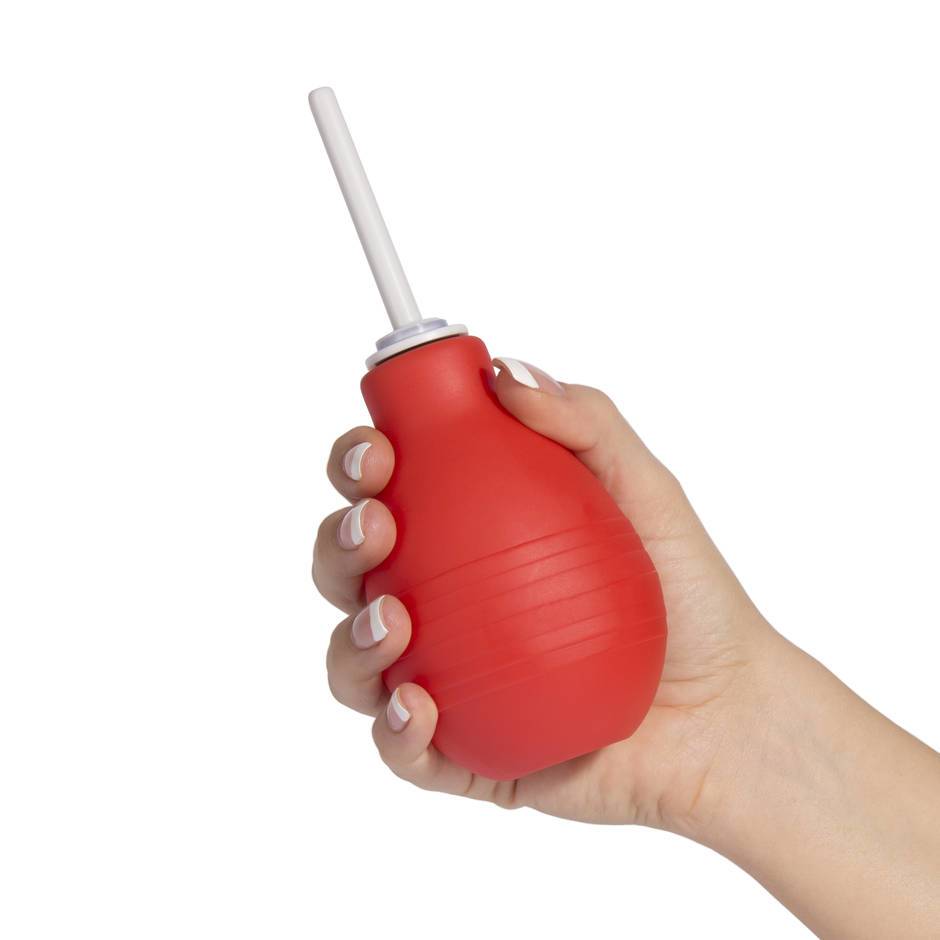 The price of the Basics model is fully matching the quality. A great number of positive reviews is the best proof of this fact.
2. Lovehoney Deluxe Anal Douche Kit 200ml
Two tips in one complect with different intensity.
Doesn`t cause discomfort during use.
A cheap price.
The set includes a short instruction on how to use this model.
A convenient volume of a squeeze bulb.
Good material and universal length of a tip.
You can use not only for cleaning but also for a massaging.

Some customers complain that it causes discomfort while using Lovehoney deluxe without a lubricant.
With Lovehoney deluxe, you will forget about any discomfort during douching.
At first, this model earned the popularity due to a great choice of two different tips that differ by water intensity.
The one nozzle is intended for a massaging of an anus.
The other one has a more direct stream for effective cleaning. Both tips are contoured that gives maximum comfort and safety during douching.
The characteristics of Lovehoney deluxe
Volume: 200 ml.
Insertable Length: 4.5 inches.
Full Length: 5.5 inches.
Materials: Lovehoney deluxe is made of rubber, it contains latex.
The color: dark blue bulb and black nozzle.
Water tightness: submersible.
Additional information. There is no harness compatible, this model has no phthalates in the consist.
3. Elite silicone douche – anal kit
Good quality and comfort measures.
Could be cleaned by soap and water only.
Easy and fast insertion.
Interesting design.
Good reviews.

The size of the nozzle isn`t very slim. For some customers, it could be too large.
This model has 3 holes in the exit. It means that the flaw goes in three directions.
The main character of this model is an unusual design. It looks just a little strange compared with previous douches.
But it shouldn`t alarm you, the Elite silicone model is also comfortable and easy to use. Some customers even think that this douche is the best one of them.
The main features of the anal douche
Diameter: 1 inch.
Insertable Length: 5.5 inches.
Full Length: 11 inches.
Material: body-safe silicone with a smooth texture.
The color: both bulb and tip are purple.
Water tightness: Yes.
Additional characteristics. The Elite silicone model is free of latex, phthalates, the material is hypo-allergenic and non-porous.
Using Elite silicone model you should remember two things. At first, you can drop it only with water-based lubricant.
The silicone greasing could damage the douche. The second thing is that you should be careful with 3 holes in the tip.
If you start to push the bulb before the nozzle is fully inserted, it will be sprayed externally.
4. Ultra Douche Cal Exotics
Interesting firm design.
Smooth and too slim nozzle.
Combines with any kind of a lubricant.
Very gentle and effective.

The flow goes in 4 directions, so you should be careful using it.
Compared with other models the volume of this one is small. If you want a deep cleaning, you should better choose another variant.
The fourth place of our top goes to Ultra Cal Exotics. This is a classical model that consists of a bulb and a plastic tip.
You can use it with both silicone and water-based lubricant. It also will be useful for beginners and people with experience in cleaning.
The characteristics of the model
The diameter of a tip: 0.75 inches.
Insertable Length: 4 inches.
Materials: body-safe firm plastic.
The color: black bulb and red nozzle.
Water tightness: submersible.
Additional information. A special form of a bulb allows controlling the water flow.
Why an anal douche is necessary?
Despite the fact that not all of the anal sex fans use enemas in their practice, the douching is a necessary procedure to take care about health and safety.
The main purpose of this act is to eliminate all waste from your anus.
Some people prefer a shower for cleaning procedures. But it is not enough, as it washes anus very superficially.
Especially counting the fact that this area is too delicate and sometimes soap could cause irritation of the anal passage.
The type of cleaning with shower could be used by healthy people with a well-balanced diet.
If you don`t follow the healthy way of life, the douching will be a more reliable way to clean an anus before sex.
And it should be a necessary procedure if your diet consists of greasy foods, and you have bad movements.
Different types of anal douches
Choosing the douche you can find three different types of this tool. They are:
A bulb douches. The most popular, cheapest and easiest to use model. It consists of a bulb, where you should put water, and a nozzle, that allows to insert the aqua in an anal pass. This tool is used as a classical enema. The only disadvantage of the model is that a nozzle is not very deep. It means that bulb douches are not suitable for deep cleaning.
A shower douches. This model should be recommended for those who had experience in douching. Such a device could be assembled directly to the shower. This is the best variant for deep cleaning, but it should be used very carefully. To avoid the strong jet some models are made with the water control pressure.
A water bag douches. This one combines the best elements from two previous models. It consists of a special bag or a bottle that by action recalls a shower and a tube. The most number of models are made with a water head regulator. The advantages of water bag douches are portability and ease of use.
How to use douches
The most models of anal douches contain in their set instructions, but if you don`t find a short guide in the complect, this information will be too useful for you.
So, using this cleaning device consists of 7 steps:
It is better to use it near in a shower or a toilet.
Before using you should clean it from dust and assemble pieces.
Be careful with water temperature. It should be warm, but not too hot or cold. Otherwise, you can cause real damage to your anus. You should also fill the bulb with water only. There shouldn`t be any soap or other cleansing products.
Ensure that a nozzle is well inserted to the bulb before starting. You should oil it with a water-based or silicone lubricant. The first one is easily washed, but the second works better.
If you are going to insert the tip to the anus, you should do it on not more than 2,3 inches. Carefully push the bulb and let the water to come in. The main thing in this procedure is to press the bulb until you put off the device from yourself. If you don`t follow this rule, all the water will go back to the douche. And you will feel unpleasant suck back effect.
When you start to feel like "full", you should quickly go to the toilet and expel.
At your discretion, the procedure could be repeated. When the water will be fully clear after expel it means that you finished. On the average, it takes 2-3 times to clean the anal pass. We also advise you to wait not less than 30 minutes before starting the sex games after douching. In some cases, not all of the water expells right away, so you should wait to finish the process.
If you want to get maximum effect from cleaning your anus, you should know the next important things about douching:
You shouldn`t fill the whole volume of the bulb. Otherwise, you can be surprised that it`s not easy to empty it.
It`s better to try the temperature of the water a few times before douching. It should be pleasant for your body.
It`s not the rule, but a recommendation: use this tool with a lubricant.
You should inspect the device before using it. There are shouldn`t be any sharps or cracks on the tip.
If you feel pain or strong discomfort during cleaning, stop to do it and check out your health by a doctor.
If you had anal sex without a condom and fear to get any disease, you wouldn`t use a douche to clean yourself from it. This act could move infection even further inside.
What is an anal douche?
An anal douche is a device used to flush out the rectum with warm water before anal sex or activities.
The idea behind douching is to reduce bacteria, improve hygiene, and make sure that any residue from lubricants or fecal matter are washed away.
It can also be used for medical reasons such as cleaning out the rectum prior to a medical procedure.
The most common type of anal douche consists of a plastic bottle containing warm water that is attached to a nozzle. The nozzle is inserted into the anus and gently squeezed until it's full. After use, the bottle is emptied and rinsed thoroughly before being stored away for future use. Douches should only be used with distilled water and not tap water, as this can contain bacteria that could cause infection.
Before using an anal douche there are some important safety tips to consider:
-Make sure you have plenty of time – don't rush the process as this increases your risk of infection
-Always use lukewarm water; avoid hot or cold temperatures which can cause irritation
-If possible, ask your partner(s) if they have any special instructions they would like you to follow when preparing
-Clean both yourself and the device thoroughly before and after each use
-Avoid using soap as this can cause irritation; instead opt for mild detergents specifically designed for intimate areas
-Never share a douche with anyone else; this increases your risk of STIs
-Follow all instructions provided by the manufacturer when using a new device
Anal douching can help promote cleanliness in preparation for sexual activities but must be done safely in order to prevent infections or other complications from occurring. If you have any concerns about using one then it's best to speak with your doctor before proceeding further.
How do you use an anal douche?
An anal douche is a device that can be used to clean the anal area prior to engaging in sexual activities. When using an anal douche, it is important to follow the instructions closely and take all necessary precautions.
To begin, fill the douche with a solution of warm water and mild soap or an enema solution.
Make sure that there are no air bubbles present in the solution before use.
If you are using an enema solution, make sure to read the label carefully and be aware of any potential side effects. To ensure proper hygiene, it is also advisable to wear gloves while filling your douche or handling any part of it.
Once filled with the desired solution, attach the nozzle firmly onto the end of the device – making sure not to overtighten as this may cause leakage when pressure is applied. Before inserting into your body, test for leaks by squeezing gently on one side of the bulb. If there is no leakage detected then you may proceed with insertion – being careful not to force it too far up as this could cause discomfort or even injury.
When ready, insert the nozzle slowly and steadily into your anus until you feel comfortable – adjusting accordingly if needed. Once inserted, squeeze gently on one side of the bulb until you feel a flow of liquid flowing through your rectum: This process should be done gradually so as not to cause any discomfort or pain.
Once done, remove the nozzle from your body and empty any remaining liquid into a toilet bowl or other designated receptacle before cleaning and storing away your device for future use – taking care to properly disinfect it after each use according to its manufacturer's instructions.
By following these steps correctly and taking all necessary precautions when using an anal douche, you can enjoy safe and hygienic sexual activities without fear of infection or embarrassment!
What are the benefits of using an anal douche?
Anal douching is becoming increasingly popular as a way to ensure that your anal encounters are hygienic and enjoyable.
Douching is a process of flushing out the rectum with water or an enema solution to remove fecal matter before engaging in anal activities.
This practice can be beneficial for both men and women, providing several health benefits.
One of the primary benefits of using an anal douche is personal hygiene. Feces can contain bacteria which can cause infections, so it's important to reduce the risk of contamination by cleaning out prior to any activity. Anal douching also helps prevent odors that may occur during intercourse, keeping you feeling fresher and more confident in the bedroom.
In addition, using an anal douche can help make activities such as anal sex more enjoyable by making it easier to insert objects into the anus without discomfort or pain. The size and shape of some objects used during sexual activities can make them difficult to insert without lubrication or assistance from a lubricant-infused enema solution. Anal douching provides this assistance by loosening up tight muscles surrounding the rectum and allowing for easier insertion.
Finally, another benefit of using an anal douche is its ability to create a better overall experience if used correctly and safely. When done properly, it can provide both partners with additional pleasure while reducing risks associated with unprotected sex and other forms of intimate contact. Using an enema solution specifically designed for use during sexual activities will leave you feeling refreshed and ready for action!
What types of douches are available?
When it comes to douching, there are several different types available that offer different benefits. The most common type of douche is a vaginal douche, which is used to flush out the vagina and cleanse it from bacteria or other materials.
This type of douche is typically made up of a bottle with a nozzle attached to the end, which can be filled with water or an antiseptic solution.
Vaginal douches can help maintain overall vaginal health and reduce irritation caused by yeast infections, bacterial vaginosis and other conditions.
Anal douches are also available for those who wish to clean their rectum before engaging in anal intercourse. These are also typically composed of a bottle and nozzle combination, but the nozzle is designed for insertion into the rectum rather than the vagina. Anal douches can help reduce any potential discomfort during anal sex by removing excess lubricant or waste material from the rectum prior to intercourse.
Enema kits are another type of douche that can be purchased at pharmacies or online retailers. Enemas are usually composed of a bag filled with either plain warm water or an antiseptic solution that is connected to a tube that can be inserted into the anus or vagina for cleansing purposes. Enemas often contain additional ingredients such as herbs, enzymes and probiotics that may provide additional health benefits when used regularly.
Finally, shower head attachments are becoming increasingly popular among those looking to give themselves a more thorough cleaning experience while bathing or showering. These attachable nozzles connect directly to your existing showerheads and feature multiple spray settings so you can easily adjust the pressure depending on your needs; this makes them ideal for those who want more control over their cleaning experience without having to purchase another device specifically for this purpose.
What should you consider when buying an anal douche?
Anal douching is a great way to ensure the cleanliness of your anal play, and can be an important part of your hygiene routine. In recent years, there's been a growing trend in personalized anal hygiene products, including many different types of anal douches. When it comes to choosing the right douche for you, there are a few factors to consider.
First and foremost, you want to make sure that you're buying from a reliable source.
As with any product, there are many brands on the market that claim to offer quality douches but may not live up to their claims.
Do some research into different brands and read reviews online before committing to a purchase.
The type of douche you choose will also depend on your needs and preferences. There are bulb-style enema kits that can be filled with water and used for single-use cleansing; shower attachments with adjustable pressure settings; or even disposable enemas that come pre-filled with solution. Once you've determined which type of anus douching device is best for you, consider what type of solution is most appropriate for cleaning your sensitive areas. Water alone is often enough for basic cleansing purposes, but if you're looking for something extra soothing or hydrating, opt for an aloe vera solution or saline-based solution specifically designed for use around the anus.
Finally, think about how much douching you plan on doing at once and whether or not it would be more convenient (and cost effective) to buy multiple bottles of solution rather than constantly refilling one bottle each time you need it.
A good rule of thumb is that if you plan on using a large amount (such as when preparing yourself for sex), it might be worth investing in larger bottles so that they last longer and reduce costs over time!
No matter which kind of anal douche device or solution you decide upon, remember that safety always comes first!
Be sure to carefully follow instructions regarding dilution ratios and insertable lengths when using any form of anal cleaner; never leave an enema inside too long as this could cause discomfort or even damage sensitive tissues in the rectum area! With these tips in mind, purchasing an anal douche should be easy – just make sure it fits your particular needs!
Are there any risks associated with using an anal douche?
Anal douching may help to provide a more hygienic anal experience, but it does come with some risks. To begin with, using an anal douche can disrupt the delicate balance of bacteria in your anus, leading to inflammation and infection. It can also damage the mucous membrane that lines the rectum, causing pain, itching and bleeding. Additionally, over-douching can lead to water intoxication or hyponatremia, which is caused by consuming too much water in a short period of time and can have serious consequences including death!
Finally, if you do decide to use an anal douche make sure you take all necessary precautions. For instance, never reuse equipment such as enemas or syringes; always use fresh water; don't over-douche; and never share equipment with another person. By following these simple steps you will help ensure a safe and healthy experience when using an anal douche.
What is the best way to clean a douche?
When it comes to cleaning a douche, there are some important steps that should be taken. First and foremost, it is important to make sure that the douche is properly sanitized before use. To do this, it is best to use a mild soap or detergent and warm water. After the douche has been washed, it should be rinsed off thoroughly with clean water.
Once the douche has been cleaned, you will want to make sure that all of the crevices and areas of the douche are completely dry before using it again.
This can be done by allowing the item to air-dry or by patting it dry with a soft cloth.
It is also recommended that you store your douche in a cool and dry place away from direct sunlight when not in use.
In addition to washing and drying your douche after each use, you will also want to make sure that any materials used with your douche are also properly cleansed between uses. This includes anything such as lubricants, condoms or other items used during sexual activity. These should all be disposed of appropriately after each use in order to reduce potential contamination risks associated with reusing them.
Finally, if your douche contains any detachable parts (such as nozzles), these should also be removed for proper cleaning after each use. This can help reduce bacterial buildup on these parts which can cause irritation or more serious issues if left unchecked over time.
As long as you follow these steps closely each time you use your douche, you can rest assured knowing that you're taking every step necessary for maximum hygiene when engaging in sexual activities involving your device!
Are there any alternatives to douching after anal sex?
There is no one-size-fits-all answer when it comes to douching after anal sex, as everyone's body is different and the circumstances surrounding each sexual encounter can be unique. Generally speaking, however, most medical professionals recommend avoiding douching altogether because it can actually cause more harm than good.
Douching washes away both the good and bad bacteria that naturally live in your rectum.
This can disrupt the delicate balance of your digestive system and make you more susceptible to infection.
Additionally, douching can push fecal matter further up into your rectum, increasing the risk of bacterial infections such as E. coli or salmonella.
Rather than relying on douching for cleanliness, it is best to practice safe sex techniques that will minimize the risk of transmission of STDs and other infections during anal intercourse. Using a condom or dental dam creates a barrier that prevents many infections from passing between partners. You should also use plenty of lubricant before engaging in anal sex to reduce friction and tearing of tissues in the rectum area which are highly susceptible to infection if exposed to blood or other bodily fluids.
Finally, it's important to practice proper hygiene habits even without douching after anal sex. This means washing hands before and after any sexual activity as well as showering promptly afterwards with warm water (not hot). Also be sure to wipe yourself completely dry with a soft towel afterwards so that moisture isn't retained in the area which could potentially lead to irritation or infection.
These simple steps can help ensure a healthy and enjoyable sexual experience for all involved while also minimizing any potential risks associated with unprotected anal intercourse.